This false police alert about Islamic State jihadists 'posing as medics' has spread from country to country
A hoax message claiming that jihadists from the Islamic State group are masquerading as medics offering people free blood tests -- while actually injecting them with the HIV virus -- has been circulating in various countries since 2017. The hoax, which has previously spread everywhere from India and Nepal to Ghana, has re-emerged recently in Kenya alongside a claim that three people were arrested over the plot in the city of Kisumu. However, Kenya police told AFP the security alert was "untrue". Nepalese and Indian police have previously also warned people that the message was false.
In Kenya, the claim has circulated via various posts since 2018.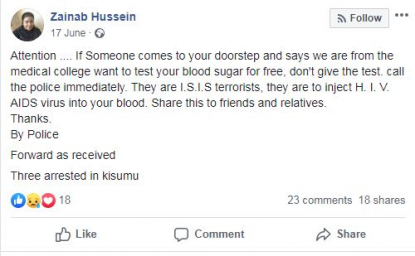 A Kenyan Facebook post sharing the hoax message, as seen in a screenshot taken on November 7, 2019
We've archived that post here. The same claim popped up in the Group Kenya Facebook group, which has over two million followers, in 2018.
In Ghana, the message was shared last year on NDC TV, a Facebook page about the NDC political party, which has more than 200,000 followers.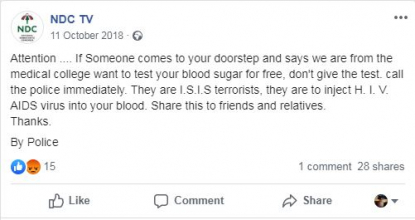 A Ghanaian post sharing the hoax on Facebook
We searched for the first few words of the alert "Attention...If someone comes to your doorstep and says we from the medical college" on Facebook and spotted the same text in a post published by the verified account of Nepal Police on September 16, 2018.
The Nepali-language part of the text says that Nepal Police did not issue the alert, warning that the message is misleading. "This is to inform you that the message was not issued by Nepal Police," the last part reads.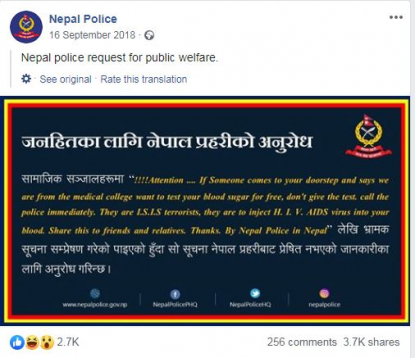 Screenshot taken on November 7, 2019 of a Nepal Police Facebook post dismissing the security alert
In Kenya, police spokesman Charles Wahong'o confirmed to AFP that the force was not dealing with any such situation, and there had been no such arrests in Kisumu. 
"This is not true, we have not had any incident of this nature reported," Wahong'o said. 
A search on Google for the first few words of the message located this fact-check on India Today published two years ago in which police in the Indian state of Uttar Pradesh dismissed the same claim, which was circulating via Hindi-language WhatsApp messages at the time.