False figures around illegal entries in Canada
Online posts claim that between 6,000 or 6,400 'illegal migrants' entered Canada in October 2018. While this is an official number from the Canadian border patrol and immigration agencies, it refers to the total number of asylum claims in Canada for that month, which includes claims from legal immigrants. 
In a Facebook post on November 19, the United Conservative Movement of Canada stated that "6,400 ILLEGAL migrants arrived in CANADA during the month of OCTOBER." The Facebook page, which describes itself as a conservative news source that provides information unavailable in "mainstream media," further suggests that this is the "LARGEST amount" of illegal crossings in 2019, a fact that goes unreported in "LIBERAL" dominated news.
Another post by Facebook group True North Initiative claims that 6,000 people illegally crossed into the country that month.
Screenshot of a Facebook post on November 20, 2018
Screenshot of a Facebook post on November 20, 2018
In October 2018, 6,465 people claimed asylum in Canada, according to official government data. However, this number does not simply represent irregular border crossers intercepted by Canadian authorities. It also refers to any asylum claim made upon arrival by a person entering Canada, or any foreigner already in Canada who wishes to remain longer than their tourist, worker, or student visa allows.
Out of 6,465 asylum claims in Canada last month, 1,394 of those were made by people who were intercepted by the Royal Canadian Mounted Police while illegally crossing the Canada-US border between official entry points. The vast majority of those arrested, 1,334 people, attempted to cross into the province of Quebec, for the most part through the known entry point of Roxham road, in New York state.
Screenshot of a Canadian government publication on immigration data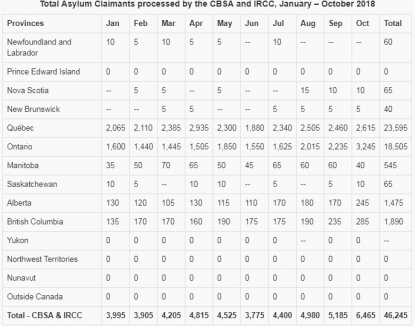 Screenshot of a Canadian government publication on immigration data
All those apprehended are not necessarily migrants however. For example, as one Canada Border Services Agency (CBSA) agent pointed out to AFP, some might be trying to avoid customs in order to bring certain illegal products into Canada.
The official figure also includes 4,005 asylum claims made at an Immigration, Refugees and Citizenship Canada (IRCC) office. Those include some of the people caught crossing the border who were brought to an IRCC office rather than a border post. It also includes regular immigrants in Canada who wish to claim asylum for one reason or another.
Finally, in some cases, claims made at an IRCC office may be from people who illegally crossed the Canadian border without being intercepted, and later attempted to legalize their presence in the country. While the details of each case were not made available to AFP, they are the exception rather than the rule, an immigration official told AFP.
The total number of asylum claims made in Canada in October was the highest in 2018. However, at 1,394, the number of interceptions of irregular entries into the country was the second lowest of 2018; the busiest month at the border was May, with 2,560 interceptions.