No, this is not a photo of an Indian vegetarian politician consuming meat during election rallies
A photograph which has been widely shared on social media claims to show Indian politician Shivraj Singh Chouhan, who is vegetarian, consuming meat on the campaign trail. The posts are false and use a doctored version of an original photograph by the Press Trust of India. Chouhan's team said he was a strict vegetarian.
The photograph, which has been posted on both Facebook and Twitter, shows Indian politician Shivraj Singh Chouhan from the ruling Bharatiya Janata Party (BJP) apparently eating meat during a break in election campaigning in his home state of Madhya Pradesh.
Screenshot of misleading Facebook post
The caption for the Facebook post, when translated from Hindi, says: "Shame on you Shivraj Chouhan. You consume meat and chicken and pretend to be a pure hindu for the general public. Shivraj's photo has been leaked."
The photo is a doctored version of an original image that was shot by the Indian news agency, Press Trust of India.
Here is a screenshot of the original image in the Press Trust of India's online photo archive: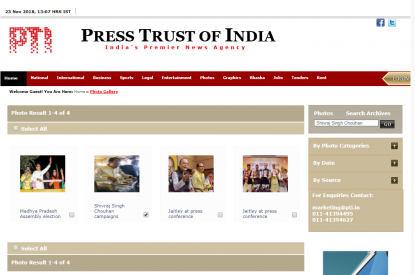 Screenshot of PTI image
The original PTI photograph was published in an October 17 article in the Tribune India newspaper.
The doctored versions of the photograph appeared on Facebook later, for example here, where it has been shared more than 700 times, on November 19.
Here are both images next to each other, with the original PTI image on the left, and the doctored image on the right: 
Screenshot of original image
Screenshot of doctored image
In the doctored image, the spoon can be seen to vanish abruptly where an image of different food has been superimposed on top of the original bowl.
"Shivraj Singh Chouhan is purely vegetarian and the images are doctored by miscreants. This is sensitive and dangerous during elections," the minister's secretary, S.K Mishra, told AFP.

"Action will be taken against miscreants as Mr. Chouhan does not consume food from kitchens where meat dishes are even cooked," Mishra added.