False claim circulates that Pakistani plane transported Sri Lankan students home after COVID-19 lockdown
A claim that Sri Lankan students were flown home by Pakistan after they were stranded during the county's COVID-19 lockdown has been shared on Facebook and WhatsApp. The claim is false; a group of Sri Lankan students in Pakistan were flown home to Sri Lanka on a SriLankan Airlines flight on April 21, 2020. 
The claim was published on Facebook here on April 22, 2020.
The Sinhala text graphic translates to English as: "While Sri Lankan air planes flew the Chinese home, we thank Pakistan for providing an aircraft to bring our stranded students home."
Below is a screenshot of the misleading Facebook post: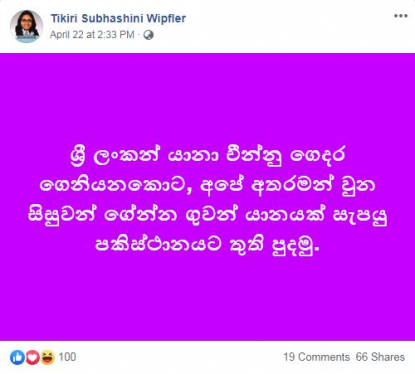 Screenshot of the Facebook post
China brought a group of its citizens home from the UK to Shanghai on a SriLankan Airlines plane during the coronavirus crisis in April 2020. The move prompted criticism from former Sri Lankan Finance Minister Mangala Samaraweera, who questioned why China did not use one of its own airlines for the journey, Sri Lankan news site NewsWire reported on April 15, 2020. 
In response, the Chinese Embassy in Sri Lanka said there were no other direct flights available and said it appreciated "Srilankan's help".
A similar claim about Pakistan's purported assistance to stranded Sri Lankans during the coronavirus pandemic was also shared on WhatsApp. The Sinhala-language message translates to English as: "SriLankan for the Chinese. Pakistani assistance for our fellows. Are the 6.9 million happy now?"
Below is a screenshot of the misleading message: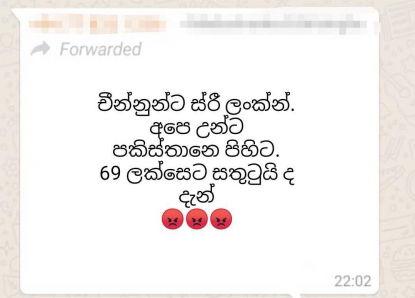 A screenshot of the misleading WhatsApp message
The claim is false.
SriLankan Airlines said in an official statement that 113 Sri Lankans were repatriated on SriLankan flights from the Pakistani cities of Karachi and Lahore on April 21, 2020. 
"These special flights are being operated as part of the Government of Sri Lanka's programme to bring back Sri Lankan students stranded in foreign countries and are being carried out in partnership with the Ministry of Foreign Affairs," the statement said.
Sri Lankan TV journalist Shehan Madawa published photos and video on Twitter here of the chartered SriLanka Airlines flights from Pakistan landing in Sri Lanka on April 21.
UPDATE - This is how the passengers were disembarked from flight UL 1206 from #Lahore to #Colombo#SrilankanAirlines @flysrilankan #COVID19 https://t.co/JjZYgBxkCm pic.twitter.com/r9ZpVvZYXD

— Shehan Madawa ?? (@shehanmlive) April 21, 2020