False claim circulates online in Thailand about coronavirus vaccine eligibility
As Thailand launched its coronavirus vaccination drive, a claim circulated on Facebook and messaging app Line in late March 2021 that all adults aged over 19 could receive the jab in the Thai capital Bangkok. The claim is false: as of March 30, 2021, a top official in Thailand's disease control department told AFP that Covid-19 vaccines would only initially be available to people in certain risk groups. In response to the social media posts, the Thai government urged people not to share "fake information".
The claim was shared on Facebook here on March 26, 2021.
The post's Thai-language caption translates in part as: "For anyone who wants to get a Covid-19 vaccine, it is now open for general public registration in 11 hospitals throughout Bangkok including Bangna hospital, free of charge. You can go now! For those who aged between 19-59."
The post includes a list of 11 hospitals in Bangkok where Thais can apparently receive their vaccination.
A similar claim was also shared on Facebook here, here, and here and on messaging app Line, as seen in the screenshot below: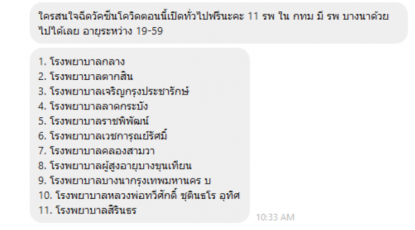 The claim is false.
As of March 2021, Thailand is vaccinating essential workers and other groups with more than 100,000 jabs from British-Swedish drugmaker AstraZeneca and China's Sinovac imported for emergency use.
It is not set to start its own mass vaccination campaign until June, with more than 60 million shots planned through domestic production of the AstraZeneca vaccine, AFP reported here.
In response to the social media posts, Kajornsak Kaewjaras, the deputy director-general of the Thai Department of Disease Control, said only those in certain high risk groups — including frontline workers and those with congenital diseases — would initially be eligible for vaccination in March 2021.
"The decision over whether you will get [the vaccination] depends on how much you need it - whether you are a frontline worker or if you have congenital diseases," he told AFP during a phone conversation on March 30, 2021.
Thailand's Anti-Fake News Centre, a government-run platform within the Ministry of Digital Economy and Society, said the social media posts contained "fake information".
"Fake news, don't share!" it said in this response on its official Facebook page on March 27, 2021.
The post, which refers to guidelines established by the Bangkok Metropolitan Administration, continues: "The first target group is doctors, nurses and medical personnel working closely with patients. The second target groups are: 1. Patients who are aged between 50-59 and 10 months with severe chronic respiratory disease, cardiovascular disease, stroke, chronic kidney disease, all types of cancer, diabetes, and obesity. 
"As for the general public who are not in the case as mentioned, details of the Covid-19 vaccination plan will be announced on a later date."