Facebook posts falsely purport to show black fungus patient in Sri Lanka
A photo of a man with a black growth on his face has been shared in Facebook posts which claim the image shows a case of mucormycosis -- black fungus infection -- in Sri Lanka's eastern Ampara town.  The claim is false: the image has previously circulated in media reports about an outbreak of black fungus in India amid a deadly second wave of Covid-19 infections. Doctors said the Ampara case had no connection to black fungus. The health ministry has said there were no reported Covid-related black fungus infections in Sri Lanka as of May 2021.
The image was published in this Facebook post on May 23, 2021, where it has been shared more than 1,700 times. 
The post contains an image of a man with a black sore on his face with a caption claiming it shows a man in the eastern Sri Lankan town of Ampara suffering from"black fungus".
"Meanwhile in Ampara there is the black fungus disease," the Sinhala-language caption reads.
"I am not sure but they say that the eyes have to be removed if infected with the black fungus disease. Everyone stay safe. A devastating situation in the making."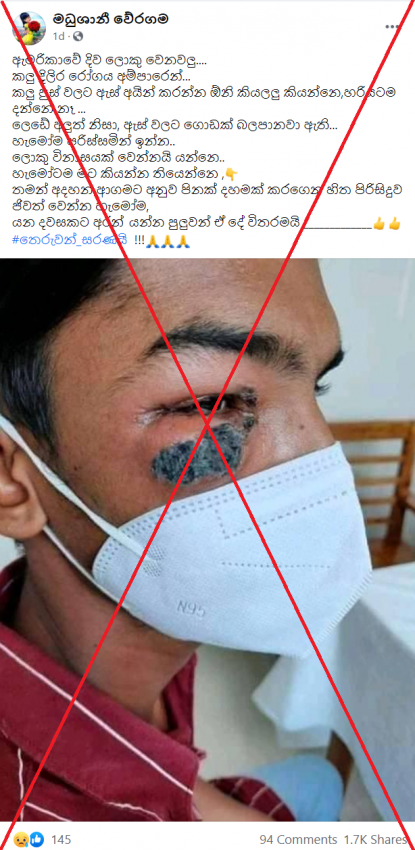 Screenshot of the Facebook post captured on May 25, 2021
The claim circulated after India recorded a surge in mucormycosis infections.
Previously very rare, mucormycosis is a highly aggressive fungal infection and surgeons sometimes have to remove patients' eyes, nose and jaw to stop it reaching the brain. The death rate is over 50 percent.
The Indian government has given figures between 5,424 and 8,848 for the number across the country. It usually records fewer than 20 cases a year.
Doctors say one of the reasons behind the explosion in "black fungus" infections has been excessive use of steroids on virus patients.
Here is an AFP explainer on the issue.
Similar claims were seen circulating on Facebook, for example here, here and here.
The claims, however, are false. 
A Google reverse image search of the photograph in the misleading posts found the image had circulated online in May 2021 in reports about black fungus infections in India.
For example, it appears in this report by Athiban TV published on May 22, 2021.
"Across India, 8,848 people are affected by black fungus," the Tamil-language headline says. 
Screenshot of the news report published on May 22, 2021
Sri Lankan doctors said that a man had recently died in Ampara from a fungal infection, but that it was not black fungus.
"There is no truth to this claim. The Ampara Hospital microbiologist confirmed with us that the death in question was caused by a commonly found fungi species of yeast," Dr. Wajira Rajapakse, Regional Epidemiologist at Regional Director of Health Service Office in Ampara told AFP. 
State Minister of Primary Health Care, Epidemics and COVID Disease Control Dr. Sudarshini Fernandopulle also confirmed to local print outlet the Daily Mirror that the man's death was not caused by the black fungus disease.
The man was suffering from tuberculosis and Covid-19 as well as the fungal infection, Fernandopulle said.
Sri Lanka has reported no cases of coronavirus-related "black fungus", as of May 24, 2021, according to this report which quotes Dr. Hemantha Herath of the Sri Lankan Ministry of Health.
The number of non-covid-related cases of black fungus in 2021 are in line with the number of cases of the rare infection over the last few years, the report adds.