Facebook posts falsely claim Sri Lanka was ranked among world's 'most corrupt nations'
Facebook posts shared tens of thousands of times claim Sri Lanka has been ranked in the "top four most corrupt nations" in the world. The claim, which has circulated online since at least 2019, is misleading. The posts did not cite any official list for the purported corruption rankings. The claim appears to have originated from an alleged statement made by a former minister. 
The claim was shared in this Facebook post on June 14, 2019. 
The Sinhala-language text translates to English as: "Our heartfelt gratitude to the ruling class who worked day and night tirelessly, to bring Sri Lanka up to the top four most corrupt nations and those who voted to bring them into power".
Screenshot of the Facebook post captured on March 29, 2021
The post's caption translates as: "Dear public that elevated Sri Lanka among the six most corrupt countries in the world, thank you".
An identical claim began re-circulating on Facebook in 2021 here and here.
The claim, however, is misleading.
The posts provided no source or evidence for Sri Lanka's purported corruption ranking.
In 2018, Sri Lanka was ranked 89th in Transparency International's Corruption Perception Index,  a leading global indicator in public sector corruption. In 2020, it was ranked 94th in the index.
Sri Lanka newspaper Ceylon Today reported on the 2020 ranking here on January 29, 2021.
The data compiled by Transparency International was used in a bar chart here created by New York-based data site Trading Economics. It shows Sri Lanka's "corruption rank" has fluctuated between 79th and 95th since 2010.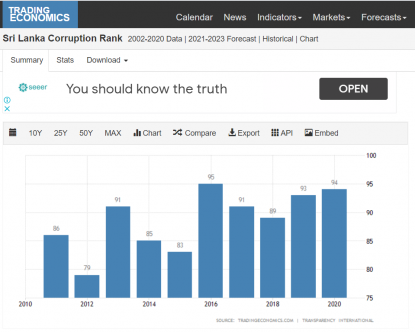 The misleading claim about Sri Lanka's purported corruption ranking has circulated online since at least 2018.
It was shared in this media report published by Sri Lankan newspaper Daily News on March 21, 2018. 
The report's headline reads: ''Fraud, corruption turned Sri Lanka into world's fourth corrupt country". The article includes an interview with former Minister Ranjan Ramanayake, but does not attribute any specific quote to him about Sri Lanka's corruption ranking. 
Ramanayake was jailed for four years on January 12, 2021 after being convicted of contempt of court and is presently serving his prison sentence.