Experts say eating garlic does not prevent COVID-19 -- and onions are no cure either
Multiple videos seen tens of thousands of times on Facebook claim garlic and onions can prevent and cure infection from novel coronavirus. This is false; the World Health Organization says garlic cannot prevent or treat COVID-19.
This video, shared thousands of times on Facebook, alleges that onions and garlic "kills virus and is protection" for those who take it. "Eat as many as possible, and at any time and any day. It's working, please help me to share, save another," the woman in the video said.
She further asked people "to get as many as possible onions", cut them open and place them at different corners of the house to keep the novel coronavirus away.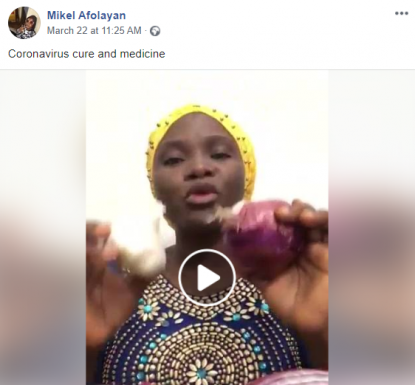 A screenshot of the video taken on March 26, 2020
The same video has been shared here, here and here. 
Another video, seen thousands of times and archived here, claims garlic, onions and lemon could all cure the virus. The video, which shows a man giving advice on handling a flu, was shared with the caption: "This just came in today. Simple solution. No vaccine, just good old mother nature. Advice from China that has overcome the virus."
A recent poll by Gallup-backed NOIPolls also suggested 15 percent of Nigerians believe one way to avoid the novel coronavirus was by eating garlic and ginger. 
WHO says garlic does not prevent novel coronavirus
According to the WHO, garlic is "a healthy food that may have some antimicrobial properties. However, there is no evidence from the current outbreak that eating garlic has protected people from the new coronavirus".
As of March 21, 2020, WHO had 48 candidate vaccines in preclinical evaluation and two in clinical evaluation as cure for COVID-19. None of the 50 candidates is onion, garlic or lemon. 
The UN health agency is yet to find a definite cure for COVID-19. 
Here is the WHO guide on preventing novel coronavirus.