Does China Airlines now serve a domestic flight in Indonesia?
Two screenshots have been shared hundreds of times in a Facebook post which claims they show that a domestic Indonesian flight route is being served by China Airlines. The claim is misleading; the photo actually shows a local flight operated by Indonesia's flag carrier Garuda Indonesia, which has a code share with China Airlines, Taiwan's carrier; Indonesian law stipulates that all domestic flights must be operated by Indonesian-owned airlines.
This June 13, 2019, Facebook post contains a screenshot of a Google result for "Jakarta to Makassar by Air China", and another screenshot of an image of a flight departure board with a China Airlines flight underlined.
The misleading post has been shared more than 480 times.
Below is a screenshot of the misleading Facebook post: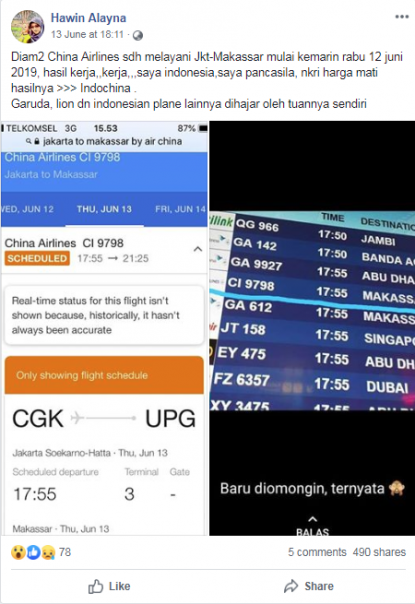 Screenshot of the misleading Facebook post
The post's Indonesian language caption translates to English as: "Quietly China Airlines has served Jakarta-Makassar starting Wednesday, June 12, 2019. The result of work and work. I am Indonesia, I am Pancasila, the Republic of Indonesia is the final price. The result>>> Indochina. Garuda, Lion and other planes battered by their own master."
The claim appeared on social media days after President Joko "Jokowi" Widodo floated an idea to allow foreign carriers to operate domestic flights in a bid to lower air ticket prices during an interview published here by Indonesian online news site Kumparan on May 29, 2019.  
Indonesian regulations stipulate that carriers operating local routes have to be wholly or majority owned by an Indonesian legal entity or an Indonesian citizen. This is stated in Article 108, paragraph 2 of Indonesia's 2009 Aviation Law No. 1, which can be seen in this document downloaded from the website of the Indonesian Directorate General of Civil Aviation, part of the Ministry of Transportation. 
China Airlines' Flight CI 9798 is actually a code share with Garuda Indonesia's Flight GA 612 from Jakarta to Makassar.
AFP entered the code "GA 612" in flightstats.com -- a flight-tracking website -- and found that the Garuda Indonesia flight is also marketed as CI 9798 of China Airlines, which serves as a codeshare airline.
Below is a screenshot of the details for flight GA 612 on flightstats.com with the codeshare details circled in red:
A screenshot of the results on flightstats.com
 Code sharing, according to this page from the United States Department of Transportation's website, is "a marketing arrangement in which an airline places its designator code on a flight operated by another airline, and sells tickets for that flight." 
On its website, China Airlines lists Garuda Airlines as one of its code-share airlines. 
AFP searched "GA 0612" and "CI 9798" on a flight information service available on the Soekarno-Hatta International Airport website.  
They show the same destination, departing time and departure gate. The GA 612 flight, however, has a check-in counter listed, but not the CI 9798. 
Below is a screenshot of the two searches: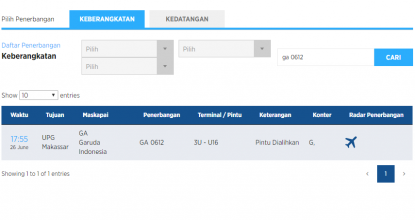 Screenshot of Flight GA 612 information on the Soekarno-Hatta International Airport website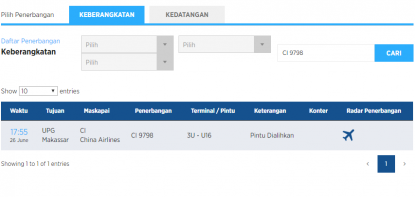 Screenshot of Flight CI 9798 information on the Soekarno-Hatta International Airport website