Doctored weather forecast circulates in false Facebook posts about tropical cyclones hitting the Philippines
A photo has been shared repeatedly on Facebook alongside a claim it shows a series of tropical cyclones set to hit the Philippines immediately after Typhoon Vamco made landfall in November 2020. The claim is false: the photo has been digitally altered to indicate additional weather pressure areas; as of November 24, the Philippine weather agency has not forecast a tropical cyclone or weather disturbance following Typhoon Vamco.
The image was shared in this Facebook post on November 12, 2020.
It circulated the same day Typhoon Vamco, locally known as Typhoon Ulysses, hit the Philippines' main island of Luzon.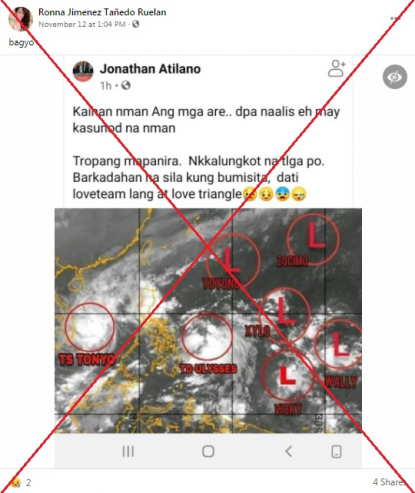 Screenshot of Facebook post
The photo purports to show a succession of tropical cyclones, circled in red, following Typhoon Vamco.
It is overlaid with text that states in part: "This is really saddening. They now come in a group, where before it's just in twos or threes".
The same photo was also shared alongside a similar claim on Facebook here, here, here and here. 
The claim is false.
The image in the misleading posts appears to have been taken from a photo posted on Facebook here on November 9, 2020. It has been digitally altered to add the reference to multiple tropical cyclones after Typhoon Vamco.
Tropical cyclones in the Philippines are assigned local names in alphabetical order by Philippine weather bureau Pagasa. The misleading image includes additional cyclones -- Vicky, Wally, Xylo, Yoyong and Zocimo -- that it suggests are forecast to hit the Philippines. 
Below is a screenshot comparison of the photo in the misleading posts (L) and the photo in the November 9 Facebook post (R):
Screenshot comparison
Pagasa did not forecast a weather disturbance in the days immediately following Typhoon Vamco.
In this press briefing on November 12, 2020, from the video's one-minute 54-second mark, a Pagasa representative says: "We are not anticipating another weather disturbance that could form or enter the Philippine area of responsibility in the next two to three days."
As of November 24, 2020, the agency has not warned of any further major weather disturbance. On November 23, Pagasa announced in this forecast that no tropical cyclone was expected to enter the country in the next few days.
"Currently, we are not seeing a new low pressure area or tropical cyclone inside and outside our Philippine area of responsibility," a representative for the agency states from the video's 40-second mark.
The same photo and claim was also debunked by Vera Files Fact Check here.