Hoax circulates online that Afghanistan announced $30 million Covid-19 aid package for Pakistan
An image of a purported news report by a Pakistani broadcaster has been shared hundreds of times on Facebook and Twitter in November 2020 alongside a claim that Afghanistan announced a $30 million aid package for Pakistan to support the country during the Covid-19 pandemic. The claim is false; the Pakistani broadcaster whose logo was shown in the posts told AFP it had not aired the purported segment; the Pakistani government also said the claim was "fake news".
The image was published here on Facebook on November 21, 2020. It has since been shared 555 times.
It purports to show a screenshot of a news report by Pakistani news channel Geo TV. The Urdu-language text in the image translates to English as: "Afghan government announced 30 million dollar aid for Pakistan to combat coronavirus". The strapline reads: "Afghan people stand by in this difficult time with Pakistani people and government: President Ashraf Ghani."
A screenshot taken on November 23, 2020, of the misleading Facebook post
The post's Urdu-language caption translates to English as: "During the last two years the situation has got so bad that those we used to give aid to are now announcing aid for us."
The image was also shared here, here, here and here on Facebook and on Twitter here, here and here, alongside a similar claim. 
The claim is false.
Rana Jawad, Director of News at Geo TV, told AFP the network had not aired such a news report, and that the image appears to be "fabricated using the channel's logo and colour scheme".
In a WhatsApp message on November 22, 2020, Jawad said: "It is a fake image. We never ran any such news."
Pakistan's Ministry of Information and Broadcasting also posted on Twitter on November 21, 2020 that the claim in the posts was false.
The tweet, which features a screenshot of the same image with a "FAKE NEWS" stamp overlay, reads: "Disseminating #FakeNews is not only unethical and illegal but it is also [a] disservice to the nation. It is the responsibility of everyone to reject irresponsible behavior. Reject #FakeNews."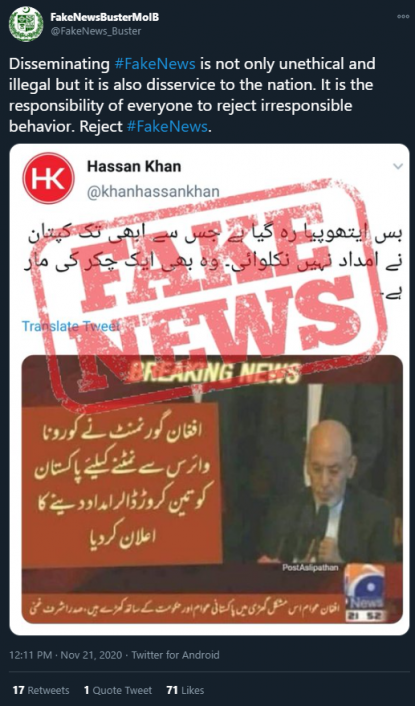 A screenshot taken on November 23, 2020, of the tweet by Pakistan government
The misleading posts circulated online two days after Pakistani Prime Minister Imran Khan made a state visit to Afghanistan on November 19, 2020, as reported by AFP here.
Keyword searches on the visit found no credible reports on Afghanistan promising Covid-19 aid for Pakistan. There were also no mentions of aid in this joint statement released by the Afghanistan Foreign Ministry on Khan's visit.