Doctored photo falsely claims Israel named a fighter jet after Indian woman killed in airstrike
Multiple Facebook and Twitter posts have shared a photo which they claim shows an Israeli tribute to an Indian woman killed in a Hamas rocket strike in May 2021, with her name painted on a fighter jet. The claim is false: the photo was doctored; the woman's name was digitally inserted onto an image that has circulated online in reports since April 2020 about a Chinese fighter jet.
The claim was published here on Facebook on May 17, 2021.
"Israel named their fighter jet as 'SOUMYA'", the text overlay reads, alongside a photo of a plane with the name "SOUMYA" printed on the side.
Soumya Santosh, a 30-year-old Indian caregiver, was killed on May 11, 2021, when a rocket fired from Gaza hit the house in Israel where she was working, India's NDTV reported.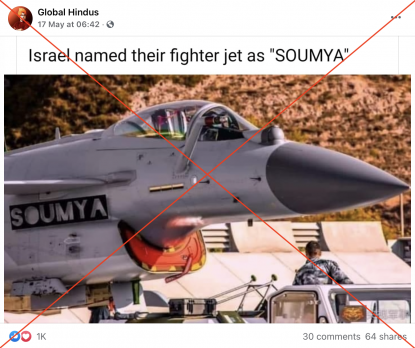 A screenshot taken on May 19, 2021 of the misleading post.
The photo circulated amid deadly fighting between Israel and Hamas, the Islamist movement which controls the Gaza Strip. A ceasefire came into force on May 21, 2021, AFP reported.
Israeli strikes on Gaza have killed more than 200 Palestinians, including 65 children, since fighting erupted on May 10, 2021.
Rockets fired by Hamas and other Islamist armed groups in Gaza have claimed 12 lives in Israel, including two children, with one Indian and two Thai nationals among those killed.
The same photo was also shared alongside a similar claim in English and Hindi here, here, and here on Facebook; and here, here and here on Twitter.
The claim is false: the photo has been doctored.
A reverse image search on Google found the original photo of the fighter jet was published in this report by the Chinese media organisation PTT News.
The report's headline translates as: "Strong craftsmanship! A massive number of new photos of the J-10C have been revealed, and it is the most beautiful under the J-20 stealth fighter."
The report was published on April 2, 2020, predating Soumya Santosh's death by more than a year.
Below is a screenshot comparison of the doctored photo (L) and the photo published by PTT News in 2020 (R):
A screenshot comparison of the misleading post and the photo on QQ.
The original image was also shared here on the online forum Quora on April 2, 2020.
Multiple keyword searches found no credible reports that Israel has named a fighter jet after Soumya Santosh.
The doctored photo was also debunked here by Indian fact-checking organisation Alt News on May 17, 2021.