Doctored image of 'missing' Philippine president misleads social media users
A photo has been shared repeatedly in online posts that suggest it was manipulated to include Philippine President Rodrigo Duterte sitting at a desk with one of his longtime allies. The image circulated online as Filipinos speculated about Duterte's health after he was not seen in public for several weeks. The photo has been shared in a misleading context: it genuinely shows Duterte sitting with his longtime ally, who shared it on his Facebook page. A manipulated version of the photo that removed Duterte was previously circulated as satire.
The photo was shared here on Facebook on April 8, 2021.
The post, which also includes a manipulated version of the image without Duterte, has been shared more than 500 times.
Its Tagalog-language caption translates to English as: "Toinks! #WhereIsThePresident?"
A screenshot of the misleading post, taken on April 22, 2021
The top image shows Duterte with longtime ally Senator Christopher Go sitting at a desk.
The manipulated image below it shows the same scene, but Duterte is missing.
Comments from some social media users indicated they thought Duterte had been added to the top image in a bid to mislead the public.
One comment reads in part: "Don't fool us [Senator Go]!!! You claim to release proof [the president is not ill] but it's a fake photo."
An identical photo collage was also shared here, here and here on Facebook; and here on Twitter alongside a similar claim.
The photo collage, however, has been shared in a misleading context.
The top image was shared in a Facebook post with several two other similar images by Go on April 7, 2021 after speculation about Dutere's health.
The Philippine leader reappeared on April 12 after an absence of nearly two weeks, Reuters reported.
The post's caption reads in part: "I hope we will help our beloved President so that we can overcome this crisis as united Filipino citizens". 
A screenshot of Go's Facebook post
A reverse image search found the second image has been manipulated for comic effect.
It was posted here on April 8, 2021, in a Facebook group called "meme$ out 4 du30: ang probinsyano (杜特爾特·梅姆斯: 省级)", where members share memes of public officials.
The image's caption reads: "What if it's only just a dream?"
According to the website knowyourmeme.com, this line refers to an internet meme that "suggests an idea of alternative reality in which a popular internet phenomenon, such as a well-known meme or a popular influencer, has never existed."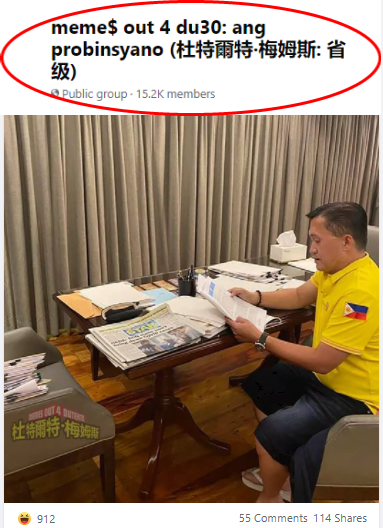 A screenshot of the satirical post, taken on April 27, 2021
An analysis of the image on online tool Forensically reveals the space where Duterte was originally sitting shows evidence of being digitally altered.
Below is a screenshot of Forensically's analysis: 
Screenshot taken on April 27, 2021