Posts misrepresent Jen Psaki remark on voting rights
Social media posts claim White House Press Secretary Jen Psaki said the US government is seeking to take away fundamental rights. But Psaki's remark to journalists was about efforts to pass federal legislation on voting access in response to state moves to make the process more difficult, not an indication that Washington plans to restrict rights.
"Jen Psaki Admits The Biden Administration Is Working To Take Away Fundamental Rights," says a January 19, 2022 tweet that links to a video of her speaking.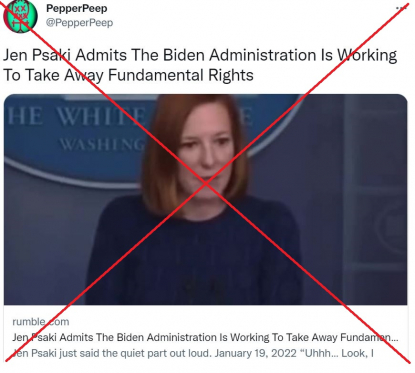 Screenshot of a tweet taken on January 24, 2022
Similar claims appeared on Twitter here and here and on Facebook here.
The quote highlighted in the social media posts came from a January 10 media briefing in which Psaki was asked about indications that Democratic Senator Krysten Sinema opposed changing rules on the filibuster to overcome Republican opposition to voting rights legislation.
The journalist asked: "Any response to a recent statement from Senator Sinema's office indicating she would not be in favor of changing the rules and dealing with these two pieces of legislation?"
Psaki answered: "I think that everyone is going to have to take a hard look at where they want to be at this moment in history, as we're looking at efforts across the country to prevent people from being able to exercise their fundamental rights."
Various US states have leveraged ex-president Donald Trump's false claims of widespread election fraud to introduce regulations that make voting more difficult, and it was to these efforts that Psaki was referring.
"This should not be a partisan issue -- protecting people's fundamental voting rights; that people should be protecting them and standing up for Americans of all political stripes. That is what we are working to do," she said earlier in the briefing.
"What we're talking about here is fighting against the Big Lie," Psaki said, linking the baseless fraud claims by Trump and his supporters to "states across the country putting in place more laws that are making it more difficult for people to exercise their rights."
The federal legislation -- which ultimately failed to pass the Senate -- would have guaranteed the right to mail-in voting, ballot drop boxes and at least two weeks of early voting -- as well as making Election Day a national holiday.
It also addressed "gerrymandering" -- the partisan trick of redrawing congressional districts in the ruling party's favor -- and would have required states with a history of discrimination to get federal clearance before changing election law.