Video does not show 'pork gelatine was used in Indonesian confectionary brand'
A video has been viewed hundreds of thousands of times in posts circulating in Muslim-majority Indonesia that claim it shows pork gelatine was used in an Indonesian confectionery brand. Consuming pork products is forbidden in Islam. But the claim is false: the confectionery brand has a halal certificate from the Indonesian Ulema Council, the top Islamic authority in the Southeast Asian archipelago. The posts actually shared footage from a Belgian broadcaster's documentary that does not refer to the Indonesian brand. 
The one-minute, five-second video was shared on TikTok on January 10, 2021 here, where it has been viewed more than 13,000 times. 
The Indonesian-language text superimposed on the video translates to English as: "It's proven! YUPI candy is made from pork gelatine!" 
Yupi is a confectionery brand based in Indonesia.
The post's caption reads: "it's proven it's proven #containsporkproduc,ts #yupicandy #porkgelatine".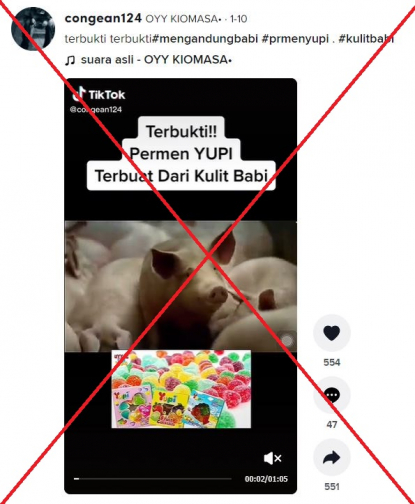 Screenshot of the misleading post, taken on January 21, 2022
The video has been viewed 210,000 times after it was shared with a similar claim here on TikTok, as well as here, here and here on Facebook.  
The clip has circulated with a similar claim since at least 2016, for example in Facebook posts here and here, where it has been watched more than 31,000 times.  
But the claim is false. 
The Indonesian Ulema Council has awarded halal certificates to Yupi for its products marketed in Indonesia, according to the body's website here.
The halal certificate means its products are safe for Muslims to consume under Indonesian law.
The footage shared in the misleading posts was actually taken from a short documentary directed by Belgian filmmaker Alina Kneepkens and produced by Flemish public broadcaster VRT in 2016.
The Flemish-language title of the documentary translates as: "On food: The story of a candy". 
Below is a screenshot comparison of the video in the misleading post (L) and the VRT documentary (R):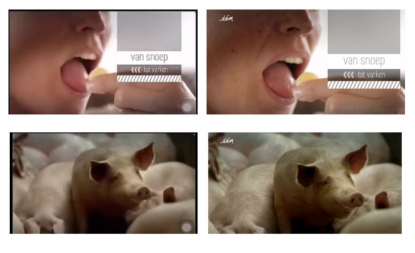 Screenshot comparisons of the video in the misleading post (L) and the VRT documentary (R)
The one-minute, 42-second-long video does not refer to Yupi or any other confectionery brands. 
The video's description says: "This 'Gelatine' video tells the reversed story of how gelatine candy is actually produced. Starting from wrapped candy, going all the way back to the living pig. Just by showing a series of reversed images, it reveals a detailed and truthful story on daily foods and its origin."