Logo of Kenyan political party digitally added to cult leader's T-shirt
Online posts have shared an image of Kenyan cult leader Paul Nthenge Mackenzie wearing an orange T-shirt purportedly featuring the logo of opposition leader Raila Odinga's political party. They claim Mackenzie – accused of inciting and possibly forcing his followers to starve themselves to death – is a member of Odinga's Orange Democratic Movement (ODM). But this is false: the image was altered by adding the ODM logo to Mackenzie's shirt and Odinga's spokesman has denied any connection between the party and Mackenzie.
On April 26, 2023, this Facebook post shared an image of Mackenzie wearing an orange T-shirt sporting what appears to be the logo of Odinga's ODM party.
"Mackenzie believes in the true Living God, why is he openly calling on AZIMIO leader Raila Odinga to intervene and save him from what he terms as 'political persecution' due to his relationship with him? To make matters worse, he said that while in court?" reads the post.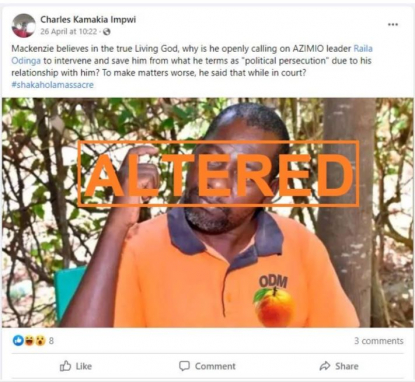 A screenshot of the false Facebook post, taken on May 16, 2023 ( Mary KULUNDU)
The same image was published in Facebook posts here and here, as well as on Twitter (see here and here).
However, AFP Fact Check found the photo has been altered to imply a link between Mackenzie and Odinga.
TV station logo
A reverse image search located the same picture in a local news report (archived here), which shows Mackenzie's orange shirt bearing the logo of his television station Times TV. The broadcaster was shut down in April for airing inappropriate content and flouting other broadcasting licence conditions (see here).
A further keyword search revealed this AFP article in The Citizen newspaper (archived here) published in April 2023 with an image of Mackenzie wearing the same collared shirt but with the name of his former TV station visible below the logo in large letters.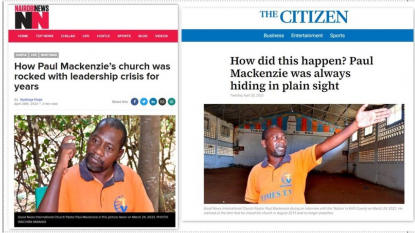 Screenshots showing cult leader Paul Mackenzie wearing the orange t-shirt ( Mary KULUNDU)
The Citizen's caption indicates the picture was taken on March 24, 2023 -- more than a month before the false posts emerged.
Commenting on the purported relationship with Odinga, ODM spokesman Dennis Onyango said the party "has no connections with Mackenzie at all and the preacher has not reached out to Raila".
"ODM strives to keep a distance between politics and churches to avoid blurring the lines. We have suffered for keeping that distance, with accusations that the party is ungodly," he told AFP Fact Check.
Starvation cult
Mackenzie is facing terrorism charges over what has been dubbed the "Shakahola Forest Massacre" after the grisly discovery last month of mass graves near the Indian Ocean town of Malindi.
More than 200 people have so far been confirmed dead as investigators continue looking for survivors (see here).
While starvation appears to be the main cause of death, some of the victims -- including children -- were strangled, beaten or suffocated, according to chief government pathologist Johansen Oduor.
Court documents indicate that some of the corpses had their organs removed, with police alleging the suspects were engaged in the forced harvesting of body parts.
But Interior Minister Kithure Kindiki has urged caution.
"It is a theory we are investigating. The reports that came from the morgue are still being finalised and I do not want to preempt the matter," he told reporters.
On May 8, 2023, Kindiki also warned politicians against politicising the matter a day after Odinga tried to access the 800 acres of Shakahola forest (near the Indian Ocean town of Malindi) where the mass graves are located (see here).
May 19, 2023 Updated to correct the name of Odinga's political party