Ivermectin alone does not cure cancer
Social media posts claim ivermectin has been proven to treat cancer. This is false; clinical trials are examining whether the drug can help reduce the growth of cancerous tumors, but health experts say it is too early to call the findings a cure -- and medical authorities warn against taking the antiparasitic unsupervised.
"Ivermectin cures cancer," says an April 15, 2023 Facebook post with a clip from "The Dr. Jane Ruby Show."
In the video, Ruby -- a self-described "health economist and New Right political pundit" whom AFP has previously fact-checked -- says: "We're starting to see evidence pour in that ivermectin has anti-cancer activity associated with it."
Another Facebook post with a photo of ivermectin paste intended for horses claims: "You CAN GET THIS CURE AT TRACTOR SUPPLY ! CURES ALL TYPES OF CANCER ! LOOK IT UP !"
Screenshot of a Facebook post taken May 4, 2023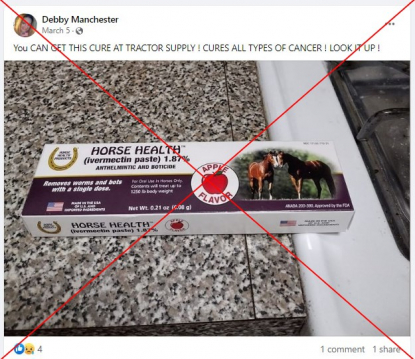 Screenshot of a Facebook post taken May 8, 2023
Similar claims about ivermectin have circulated in articles and elsewhere on Instagram and Facebook for several months.
In the United States, ivermectin is approved to treat tropical diseases such as scabies. The antiparasitic drug is also authorized for certain veterinary conditions.
During the pandemic, researchers explored whether ivermectin could treat Covid-19, but studies failed to find a clinical benefit. The US Food and Drug Administration (FDA) has not approved the drug for treating viral infections.
Despite warnings from major medical associations against taking the drug outside of clinical trials, social media posts continue to push misinformation about ivermectin. In late 2021, the FDA issued a formal alert (archived here) against taking paste intended for animals.
Asked whether ivermectin is a proven cancer cure, the US National Cancer Institute (NCI) said in a statement emailed May 3, 2023: "It does not appear from a search of our resources that the NCI maintains any information supporting the claim."
Research ongoing
Many of the claims about ivermectin's cancer-curing abilities appear to stem from 2022 posts citing searches on PubMed, a database of scientific abstracts maintained by the US National Library of Medicine.
Some articles in the database do appear to tout ivermectin as a cancer treatment, including one (archived here) titled: "Ivermectin, a potential anticancer drug derived from an antiparasitic drug." But the papers do not indicate the drug is a cancer cure -- they call for more clinical studies of its potential use.
Peter Lee, chair of the Department of Immuno-Oncology at City of Hope, one of the largest cancer research and treatment organizations in the United States, leads a team exploring whether ivermectin could help treat breast cancer in combination with other drugs.
"There's certainly truth to ivermectin being able to kill cancer cells," he said May 2, 2023. "(But) it needs to be combined with an immune activation. And we're really in the process of figuring that out now."
Lee said the drug regimens his team is exploring only work when given in specific dosages at specific times.
"Simply saying somebody's going to take some ivermectin that they got from a veterinarian office -- that's not gonna fly whatsoever," he said.
Ivermectin has side effects such as skin rash, nausea and possible liver injury.
"We do know also that ivermectin at very high doses, can actually be toxic as well," Lee said. "So definitely, it shouldn't be just go grab some and take it yourself."
AFP has also debunked claims that the dog deworming drug fenbendazole cures cancer.
May 8, 2023 This article was refiled following validation prior to editing.