Video does not show real 'human sleeves' – it's an old ad for a Netflix show
Numerous social media videos purporting to show footage of "human sleeves" – described as an artificial body into which a person's consciousness is transferred – have resurfaced on social media after being debunked in 2021. The videos show a fictional product and were used to promote Netflix's sci-fi series "Altered Carbon". As part of the show's marketing, the "human sleeves" were presented at the Consumer Electronics Show in 2018 as real products.
"Human sleeves", reads the text on a TikTok video published on Facebook Reels. Another line claims: "There tryna make people immortal now (sic)."
The caption for the reel, which has been shared more than 31,000 times, reads: "Cloning continues".
A screenshot of the false TikTok video as seen on Facebook Reels, taken on February 17, 2023
Reactions to similar posts (here and here) on TikTok were mixed; some users in the comments knew that it was simply an advertisement for Netflix, while others believed the technology was real.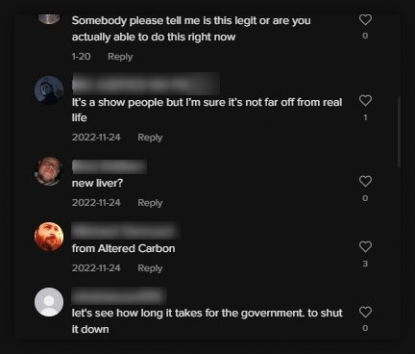 A screenshot of some of the comments replying to one of the posts
Some of the first results for a keyword search of "human sleeves" on Google show that the claims were debunked more than a year ago in December 2021 by fact-checking organisations Reuters and Snopes.
The results also found articles from January 2018 (here and here) that reported on a "disturbing booth" on display at that year's Consumer Electronics Show (CES) in Las Vegas for a company called "PsychaSec".
At the time, an article in the advertising trade publication Adweek explained that Netflix used the event to promote one of its shows.
PsychaSec was a fictional company that promised immortality by allowing people to transfer their consciousness and memories into a new body, or "human sleeve".
The booth featured two artificial bodies, "Adam and Eve", and the promoters, dressed all in white, were said to have stayed in character as PsychaSec employees when addressing CES 2018 attendees.
Screenshot of The Wrap's article on January 10, 2018, showing the two artificial bodies
"Sounds pretty trippy, right? Unfortunately, PsychaSec isn't real. But even the CIA would've had a hard time getting the booth hosts to admit it," wrote tech reporter Sean Burch.
Burch also wrote that he had spotted a Netflix logo on the side of the booth that nobody was talking about.
It turned out that Netflix was promoting the series Altered Carbon, which launched the following month -- adapted from a futuristic novel by Richard K. Morgan.
A screenshot of the series on the Netflix website
The series was cancelled in 2020 after running for two seasons.