German govt study did not link Covid vaccines to AIDS
A website that regularly peddles misinformation has falsely claimed Covid-19 vaccines can cause AIDS, citing a German government report. In fact, the report made no reference to AIDS, a potentially life-threatening condition. Health experts separately told AFP that AIDS has no link to Covid-19 vaccines.
"Bombshell: Alarming number of vaccinated are developing AIDS," reads a tweet written in simplified Chinese characters posted on February 1.
The tweet -- shared by an account with more than 24,000 followers -- shows a screenshot of an article by NewsPunch, a US website that regularly shares misinformation.
It claims German government data found that Covid-19 vaccines can cause "vaccine-induced acquired immunodeficiency syndrome", however, this syndrome does not exist.
AIDS (acquired immunodeficiency syndrome) is caused by HIV (human immunodeficiency virus).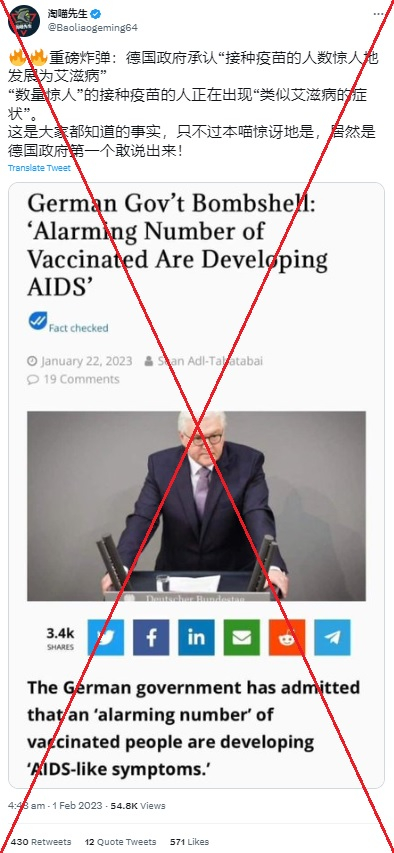 Screenshot of a tweet sharing the false claim, taken on February 3, 2023
The NewsPunch article's headline reads, "German Gov't Bombshell: 'Alarming Number of Vaccinated Are Developing AIDS'."
It cites a report published in December 2021 by the Robert Koch Institute (RKI), Germany's public health agency, that was produced as part of a weekly series on the EU country's coronavirus situation.
The RKI report originally stated that the vast majority of 6,788 Omicron cases reported were among vaccinated people -- with just 186 cases in unvaccinated people.
The NewsPunch article misrepresents this data to misleadingly claim that most of the vaccinated people infected with Omicron later developed "vaccine-induced acquired immunodeficiency syndrome".
It reads: "The data suggested that most of the individuals who had been fully vaccinated would develop full-blown vaccine-induced acquired immunodeficiency syndrome by the end of the month.
"Furthermore, the data confirmed that the immune systems of the fully vaccinated had already degraded to an average of minus 87%."
The RKI told AFP that it later published a correction in its December 2021 report to clarify that there were actually 1,097 Omicron cases in unvaccinated people.
The report did not say that Covid-19 vaccines caused AIDS or weakened the immune system.
A screenshot of the false NewsPunch article was shared on various platforms, including Twitter, Facebook, Chinese site Weibo and US platform Gettr.
'Fake condition'
Health experts from Meedan, a non-profit organisation that tracks health misinformation, said there was no known link between Covid-19 vaccines and AIDS.
"There is no evidence from Covid-19 vaccine clinical trials or controlled follow-up data that links WHO-approved Covid-19 vaccines with increased risk of HIV/AIDS," a representative for the group told AFP, adding that "vaccine-acquired immunodeficiency syndrome" was "a fake condition".
The representative also said it was not possible for people to contract HIV from Covid-19 vaccines.
"Most people who get HIV get it through sexual relations or sharing needles," they said. "There is also no possibility of HIV/AIDS transmission from the Covid-19 needle because a new needle is used every time."
Malik Peiris, chair of virology at the University of Hong Kong also told AFP that the NewsPunch article had made a false connection between Covid-19 vaccines and AIDS.
"There is absolutely no scientific indication that Covid-19 vaccines cause AIDS," he said.
AFP previously debunked a similar claim about Covid-19 booster shots.
Vaccination claim
Scientists have previously rebuked claims that Covid-19 jabs do not work because vaccinated people can still contract the virus.
Health authorities around the world, including the US Centers for Disease Control and Prevention (CDC), point out that while Covid-19 vaccines significantly reduce the risk of falling seriously ill or dying from the disease, no vaccine is 100 percent effective.
Experts have told AFP that there are more Covid deaths in vaccinated people in places with high vaccine coverage -- as vaccine roll-outs prioritise older and more vulnerable people who are more likely to die from the disease.
"If 100 percent of the population were vaccinated then all Covid-related deaths would occur in the vaccinated," Christian Yates, a senior lecturer in Mathematical Biology at Britain's University of Bath, told AFP in July 2021.