Tweet suggesting vaccines in food is fabricated
A video viewed hundreds of thousands of times online claims Bill Gates suggested putting vaccines in food, citing a supposed screenshot of a tweet from the billionaire philanthropist. But the post is fabricated; no such message appears on live or archived versions of Gates's Twitter account, and his foundation confirmed the claim is false.
"Bill Gates Vows To Pump mRNA Into Food Supply To 'Force-Jab' the Unvaccinated," says the headline of a January 10, 2023 article from NewsPunch, a website that has previously published misinformation and conspiracy theories.
The thumbnail of a video embedded in the article shows what appears to be a screenshot of a tweet from Gates, co-founder of Microsoft. The supposed post says: "Vaccines in our food supply solves the problem of vaccine hesitancy."
A narrator in the clip says: "As the globalist elite continue finding it harder and harder to convince humanity to submit to Covid jabs and endless boosters, they are having to find cunning new ways to force their jabs on us."
The same video has accumulated more than 588,000 views on Rumble, an alternative video-sharing platform. Similar messages appeared on Twitter, Facebook and Instagram.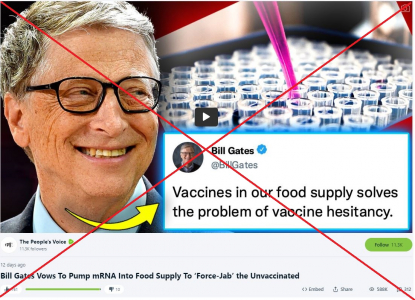 Screenshot of a Rumble video taken January 23, 2023
Gates, the co-founder of Microsoft, has long been an advocate of vaccines for Covid-19 and other diseases -- but the purported tweet shared online is doctored.
"The claim is false," a spokesperson for the Bill and Melinda Gates Foundation told AFP in a January 23 email.
A search of Gates's verified Twitter account surfaced no tweet on vaccines in food. Such a post also does not appear on PolitiTweet, a website that archives deleted tweets from public figures.
Researchers have studied edible vaccines for years, but no such program is active in the United States.
While not consumed in food, the rotavirus vaccine is "the only routinely recommended vaccine administered orally," according to the US Centers for Disease Control and Prevention. All of the Covid-19 vaccines authorized in the US are injectable.
AFP has previously fact-checked numerous false claims about Gates, which is often the subject of health-related conspiracy theories.