Nigerian officials make misleading claims about female governor candidate in Adamawa state
Nigerian government officials have made misleading claims about Aishatu Dahiru Ahmed, a candidate from the ruling All Progressives Congress (APC) party vying for a state governor's seat in polls set for March 11, 2023. An aide to President Muhammadu Buhari alleged Ahmed would be Nigeria's first woman governor if she won the race in Adamawa, while a minister claimed she was the only woman from a major political party running in Nigeria's north. But AFP Fact Check found both claims to be misleading. Firstly, there are other female contenders from key parties partaking in the election. Moreover, Ahmed would not be the country's first-ever woman governor: Virginia Etiaba served as Anambra state governor for three months between 2006 and 2007 after her predecessor Peter Obi was impeached.
"Our party, the APC is doing it rightly to produce the first female governor in Nigeria," Buhari's communications aide Bashir Ahmad tweeted on January 9, 2023.
The post featured a video of a crowd at a pro-APC rally.
The same day, junior labour minister Festus Keyamo, who is also the spokesman for the APC's presidential campaign, shared a photo of Ahmed with the caption: "This is the moment President Buhari raised the hand of the only female candidate of the major political parties in the entire North, Senator Aishatu Binani."
Ahmed is also known as Aisha Binani.
Ahmed was elected to the House of Representatives in 2011 as a member of the People's Democratic Party (PDP).
She later defected to the APC and was elected to Nigeria's senate in 2019.
She won the APC primary nomination to run for the Adamawa seat in May 2022. Although a federal high court initially quashed her nomination, an appeal tribunal later reinstated her as a candidate.
A 20022 report by the not-for-profit organisation Gender Strategy Advancement International showed that women's political participation in Nigeria falls below global standards with the national average at 6.7 percent in elective and appointed positions. This is far below the global average of 22.5 percent, the African regional average of 23.4 percent and the West African subregional average of 15 percent.
First woman governor?
While Ahmed could become Nigeria's first elected woman governor, she would not be making history as the country's first-ever female governor.
Virginia Etiaba was sworn in as governor of Anambra state on November 3, 2006, after the state assembly impeached then-governor Peter Obi. The Court of Appeal later annulled Obi's impeachment, cutting short Etiaba's tenure as governor. Etiaba left office on February 9, 2007.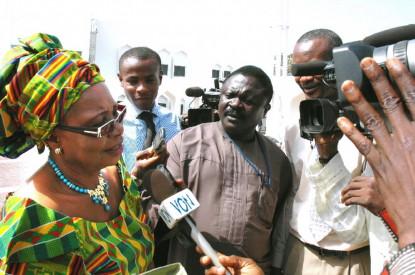 Governor of the southeast Anambra State Virginia Etiaba answers questions from the State House press corp following a meeting with Nigerian President Olusegun Obasanjo in Abuja, 14 November 2006. Etiaba is Nigeria's first woman Governor in replacement of Peter Obi, accused of embezzlement. AFP PHOTO / NAN / STR ( NAN / HENRY)
Women candidates in Nigeria's north
The two leading parties in Nigeria are the ruling APC, which also controls the legislature, and the PDP, the leading minority party in the national assembly.
Contrary to Keyamo's claim that Ahmed was the sole female contender of a major party in the north, the Independent National Electoral Commission's list of 2023 candidates features several women for Senate or House of Representatives roles in that part of the country.
In the north-central region, they include PDP contenders Natasha Akpoti-Uduaghan from Kogi State; Ogwuche Aida Nath from Benue State; and Beni Lar from Plateau State.
In the northeast, the race features APC candidates Zainab Gimba from Borno State and Aishatu Jibril Dukku from Gombe State. Another two APC contenders, Fatima Talba and Khadija Waziri, are running in the House of Representatives election in Yobe state.
As for state elections, PDP's Farauta George Kaletapwa and Piyo Josephine Chundung are running mates to governorship candidates in Adamawa and Plateau respectively. Meanwhile, APC candidate Hadiza Balarabe is a running mate in the race for governor in Kaduna State.