Photo shows Ronaldo during Al-Nassr training session in Riyadh, not playing in empty stadium
Cristiano Ronaldo's move from Manchester United to Saudi side Al-Nassr FC has caused some pundits and football fans to suggest that the deal marks the end of the iconic player's football career. A recent Facebook post circulating in Cameroon purports to show a photo of the Portuguese striker playing a match "in front of empty seats" with his new team. But the claim is false: the image shows Ronaldo and his Al-Nassr teammates during a training session in Riyadh.
"So this is how Ronaldo ended up his glittering career (sic)," reads the Facebook post published on January 10, 2023, which has drawn more than 5,400 comments.
It adds that Ronaldo is "playing infront of empty seats in a desert Kingdom where women are not allowed to drive or work without permission from their spouse or parent (sic)."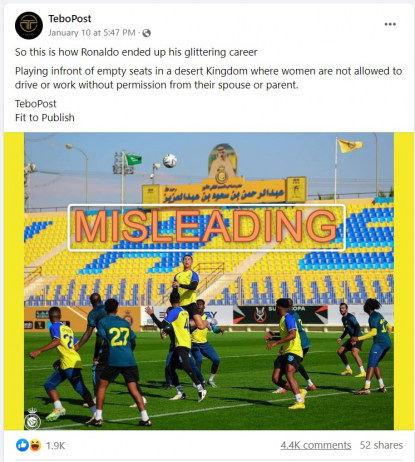 Screenshot showing the misleading post, taken on January 13, 2023
The post features a photo showing Ronaldo in a full-stretch jump surrounded by other players.
But the claim that the image shows him playing in a stadium without fans is misleading.
Training session
Al-Nassr signed Ronaldo on December 30, 2022, after leaving Manchester United during the Qatar 2022 World Cup period following an explosive interview during which he slammed the English club for "ill-treatment."
He has yet to feature for his new club since he is serving a two-match ban carried over from his English Premier League days. He was found guilty of improper and violent conduct for smashing a fan's phone when United lost to Everton in April 2022.
Ronaldo will make his debut on January 22, 2023.
A reverse image search traced the photo to the Al-Nassr FC official Twitter account. It shows Ronaldo and his teammates during a training session on January 10, 2022.
"The picture was taken at our playing ground during a training session, it does not show our players during a league match as the Facebook post suggests," Al-Nassr told AFP Fact Check.
A local Saudi news website also published the training session image in an article on January 11, 2023.
Saudi women allowed to drive
The post also claims that Saudi women are not allowed to drive or work without permission from their husbands. But the claims lack context.
Saudi Arabia operates under a repressive male guardianship system where women face systematic discrimination. They cannot travel, engage in paid work, or even marry without the permission of a male guardian such as a father, brother, or another male relative.
Before June 2018, women in the country were prohibited from driving, but that ban was lifted.
In February of the same year, women in the Asian country also gained the right to open businesses without consent from their husbands or male relatives.
In 2019, Saudi Arabia ended the restriction preventing women from travelling abroad without their male guardian's approval.
January 19, 2023 FIXES spelling of Cristiano Ronaldo in para 1