Social media users misled by animation video of 'artificial womb facility'
A video of what appears to be an "artificial womb facility" that allows parents to choose their babies' characteristics has misled social media users in various countries, who seemed to believe it showed genuine technology. The video has garnered more than one million views. However, the original video's creator told AFP that his footage is an animation and does not show a real or planned facility. Scientists said the animation is "pure science fiction".
The video was posted here by a Facebook user from Pakistan on December 12, 2022.
The eight-minute 39-second video has since been viewed more than 200 times.
The Facebook post reads: "Must Watch #technews World's first artificial womb facility lets you choose baby's characteristics from menu. #AITechnology #Ectolife #Reinventing #Evolution".
"Introducing EctoLife, the world's first artificial womb facility powered entirely by renewable energy," the video's voiceover says. "EctoLife allows infertile couples to conceive a baby and become the true biological parents of their own offspring."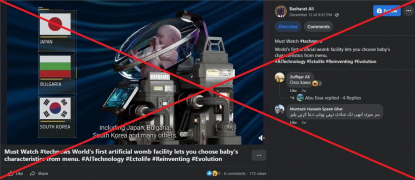 Screenshot of the misleading post, taken on December 28, 2022
The video has been viewed more than 3,600 times after it was shared in similar Facebook posts in India, Australia, Bangladesh, the Philippines, the United States and Nigeria.
It racked up more than 1.1 million views in total on other platforms, including YouTube here and here; Twitter here and here; TikTok; and Weibo, with some posts claiming the technology was "unveiled by a German scientist".
Comments on the posts indicated some social media users believed the facility was real.
"A natural born child is good... but an artificial child created by a machine is not good," one Facebook user wrote.
"They have clearly already done this to know it works. They would have been doing this for years already," a TikTok user commented.
Screenshots of social media users' comments
Concept video
A reverse image search of the video keyframes found the video was uploaded on YouTube by Berlin-based science communicator and video producer Hashim Al-Ghaili on December 9, 2022.
The video is titled "EctoLife: The World's First Artificial Womb Facility".
At the 7:54 mark, a voiceover says: "The concept of EctoLife facility was designed by biotechnologist and science communicator Hashem Al-Ghaili".
Later at the 8:25 mark, the video shows text that says: "Concept By: Hashim Al-Ghaili".
Below is a screenshot comparison of the video in the misleading post (left) and the original YouTube video (right):

Screenshot comparison of the video in the misleading post (left) and the original YouTube video (right)
Al-Ghaili, the video's creator, told AFP via email that the video is an "animation", which was created only as a "concept".
The footage was "taken out of context by users who shared it", he told AFP on December 28, 2022.
"EctoLife is not a real facility and there is no work being done to create the prototype as of now," Al-Ghaili said. "The video is intended to showcase how far science and reproductive technology have progressed and initiate the discussion around such technology."
Al-Ghaili also posted other CGI animation videos on his YouTube channel, such as here and here.
Artificial womb research
While scientists have been trying to create artificial wombs that could help premature babies, success has been limited to animals, such as experiments on lambs.
In October 2019, researchers in the Netherlands received a 2.9 million-euro ($3.1 million) EU grant to develop a prototype of an artificial womb to help premature babies grow outside the uterus. It was reported in October 2021 that the "artificial womb -- incubator 2.0 -- will become a reality within 10 years".
"There is currently no work being done anywhere in the world on an artificial womb as proposed in this animated film," Professor Guid Oei, chair of fundamental perinatology at Eindhoven University of Technology and one of the project's initiators, told AFP on January 9. 2023.
"The animated film states that the development of the baby takes place completely outside the woman's body. This is far from being scientifically possible," he added.
"What we are working on in Eindhoven, as project leader of a European consortium, and what a number of other scientific research teams in America and Australia are also working on, is the development of an improved version of the incubator for extremely premature children," Oei said. "Total ectogenesis, which the animated film is about, is still pure science fiction."
AFP has previously debunked a false claim that a video shows a cloned baby raised in an artificial womb.