Video of Donald Trump expressing support for Ye is doctored
A video circulating on social media appears to show former US president Donald Trump saying he "just can't be upset" with Ye, formerly known as Kanye West, in spite of the rapper's anti-Semitic remarks and praise for Adolf Hitler. But the clip has been digitally manipulated; the real footage shows an interview Trump gave to NBC News in 2017.
"Kanye has some, some, some stuff recently that people don't agree with, but I just can't be upset with the man that made 'Graduation,'" Trump appears to say in the video, referencing an award-winning album Ye released in 2007.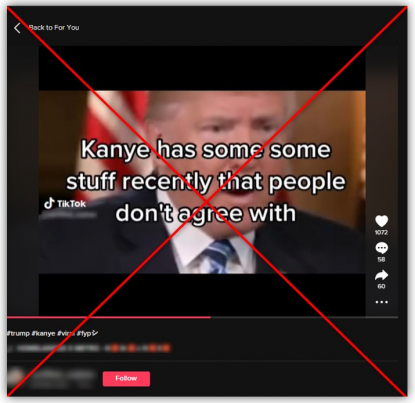 Screenshot from TikTok taken December 12, 2022
The clip was viewed widely on TikTok and Instagram in December 2022.
The posts sharing it follow a spate of anti-Semitic remarks from Ye, which cost him commercial endorsements and prompted widespread condemnation. They also come as Trump has faced criticism for a November dinner he had at his Mar-a-Lago estate that included the rapper and white supremacist Nick Fuentes.
But the video circulating online is not authentic; the supposed audio from Trump is a digital fabrication.
The footage comes from a May 2017 interview that Trump gave to NBC News anchor Lester Holt, reverse image searches show.
The then-president's conversation with Holt centered on his decision to fire former FBI director James Comey. Ye was not mentioned -- and AFP found no evidence that Trump ever made such a statement, although he has repeatedly praised the rapper over the years.
The altered video distorts the end of Trump's conversation with Holt, when the anchor asked about the optics of ousting Comey -- who had been investigating Russian interference in the 2016 US presidential election -- shortly before hosting top Kremlin diplomat Sergei Lavrov at the White House.
The gestures Trump made as he responded, including a glance down and to the left while chopping his right hand into his left palm, mirror his movements in the clip shared online. He is also wearing the same striped blue tie and American flag lapel.
Screenshot from TikTok taken December 13, 2022
Screenshot from NBC News taken December 13, 2022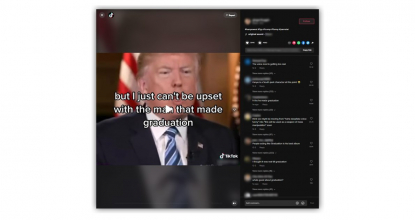 Screenshot from TikTok taken December 13, 2022
Screenshot from NBC News taken December 13, 2022
Here is what Trump actually said during that part of the interview: "But when I spoke with Putin, he asked me whether or not I would see Lavrov. Now what do I, should I say no, I'm not going to see him? I said I will see him."
Siwei Lyu, director of the Media Forensic Lab at the University of Buffalo, told AFP the video spreading online is likely a deepfake created using automatic lip-syncing technology that generates lip motions based on an audio track. Numerous Trump voice generators are also available online.
"To me, the telltale sign of the potential synthesis is the inconsistent synchronization of the lip movements with the audio track," Lyu said in an email. "This is not easy to see because the creator uses the overlaid texts to block the visibility of the lips."
The earliest version of the video AFP found, which was posted to TikTok on December 2 and has more than 3.4 million views, includes the caption: "#funny #parrotai."