Burmese posts falsely claim hot water with chilli powder mixture can treat heart attacks
Social media users in Myanmar have repeatedly shared a false claim that someone having a heart attack can be saved if they drink a mixture of hot water and chilli powder. But health experts told AFP there is no scientific evidence to support the claim, adding that following this advice -- instead of immediately seeking medical help -- is potentially harmful.
"A method that can immediately save a person who has a sudden heart attack," reads Burmese-language text superimposed on a collage shared on Facebook here on November 21, 2022.
The text also suggests details of this method can be found in the post's comments section.
The collage, which was shared in a Facebook group with more than 1.7 million members, appears to show red chillies and a spoon of chilli powder next to tea being poured into cups.
A link in the post's comments section goes to an article titled, "A method that can immediately save a person who has a sudden heart attack".
The article reads in part: "When a heart attack occurs, it is necessary to provide the patient with immediate treatment and nutrients to restore normal heart function.
"A teaspoon of chilli powder is added to a cup of hot water, and the patient is instructed to drink it. This restores the patient to normal within one minute.
"The hot water unblocks the body's blood flow, and the chilli powder pushes it, thereby directly supporting the heart. This method is more effective than taking medication."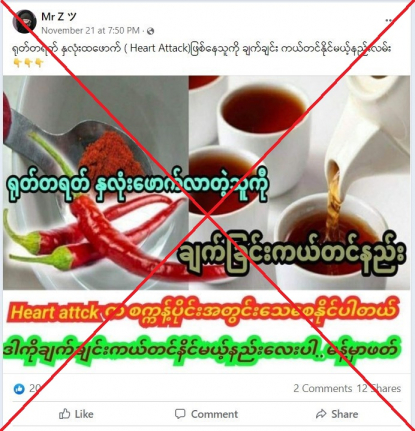 Screenshot of the misleading Facebook post, captured on November 23, 2022
The same claim was also shared elsewhere on Facebook here, here, and here; and on a Burmese blog here.
Health experts, however, told AFP the claim is false and could potentially be harmful.
'No scientific basis'
Ruth Goss, a senior cardiac nurse at the British Heart Foundation, told AFP that drinking hot water with chilli powder would not help someone who is having a heart attack.
"A heart attack is a medical emergency caused when the blood supply to your heart muscle is interrupted, most commonly by a blood clot blocking blood flow," she said.
"It's vital that this blockage is cleared as quickly as possible to restore blood flow to your heart muscle. Drinking hot water with chilli powder will not do this."
Cathy Lewis, senior manager of national communications at the American Heart Association, also said there is no scientific basis for the claim.
"Anyone experiencing signs of a heart attack should get immediate emergency medical help," Lewis told AFP.
An official at the Geneva-based World Heart Federation also told AFP there is "no evidence to show that taking water or chilli powder is of any benefit when someone is having a heart attack".
"In addition, this claim is potentially harmful by reducing the time it takes for the person to get medical attention. Anyone who may be having a heart attack needs emergency medical help."
All the experts who spoke to AFP said emergency services should be called immediately when someone has a heart attack.
AFP has previously debunked false claims about a home-made heart disease remedy and that heart attacks can be stopped by coughing vigorously.