New Zealand vaccinologist has not 'backtracked' stance on Covid-19 vaccine
Misleading social media posts claim that a New Zealand vaccinologist has "backtracked" on her pro-vaccine stance following an interview about a new Covid-19 booster shot. The vaccinologist in question told AFP she has not backtracked her support for vaccination, and that the quotes from the interview have been taken out of context.
"Interesting U-Turn from one of the governments spin doctors," reads the caption on a Facebook post, published on October 11, 2022.
The post links to an article in the Daily Telegraph New Zealand (DTNZ), a local news site founded in October 2021.
The DTNZ article claims that New Zealand vaccinologist Helen Petousis-Harris "backtracked on her previous overwhelmingly pro-vaccine advice" during an October 11 interview on public broadcaster Radio New Zealand. She was asked in the interview about the need for booster vaccines that target the Omicron variant of Covid-19.
The DTNZ article quoted Petousis-Harris as saying: "I wouldn't be running out to get myself boosted. I don't think it would be particularly useful. I don't see any evidence to suggest it is going to benefit me."
The article also quoted her as saying: "I think that the expectations for the new bivalent vaccines exceed the evidence. Probably not a lot [of protection against Omicron]".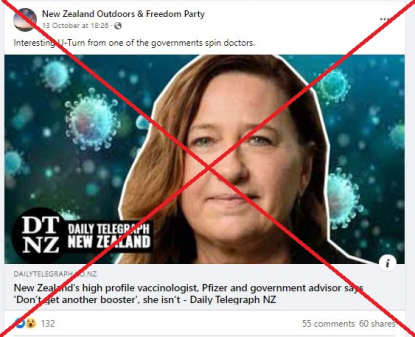 A screenshot of the misleading Facebook post as of October 26, 2022.
Other instances of the claim appear on Facebook here and here, and it appears to have originated from a New Zealand-based blog called the Hatchard Report.
However, the claim is misleading.
Quotes omit context
The quotes selected in the misleading article omit Petousis-Harris's comments that the Omicron booster is beneficial to the elderly and people who are immunocompromised.
In response to a question about whether the Omicron booster should be strongly considered, she says at the 26-second mark: "I think it's coming, but it's not something I think there's a matter of urgency about.
"I think that the expectations, I guess, for these new bivalent vaccines exceed the evidence as to their advantage really... people most likely to benefit are the elderly elderly, the very old if you like, people who even a mild infection might be quite catastrophic, so these are the people most likely to benefit from these additional boosters," she added.
Many people in New Zealand are likely to have hybrid immunity, Petousis-Harris said, defined by the World Health Organisation as immune protection in people who have had at least one dose of the Covid-19 vaccine and have been infected with the virus at least once.
"The recipe for the best immunity that we have at the moment is having had your vaccine and then having had the Omicron infection," Petousis-Harris said.
She goes on to say at the three-minute-and-four-second mark: "If you've got that hybrid immunity, I wouldn't be running out to get myself boosted. I don't think it would be particularly useful. Again, I think focus on those really elderly."
Petousis-Harris says that because she has had three doses of Covid-19 vaccines, and has recovered from the Omicron variant, she would not urgently seek a fourth dose of the Covid-19 vaccine.
Expert clarifies position
In response to the posts, Petousis-Harris rejected the notion that she had reversed her position on Covid-19 vaccines.
"It is impressive how far out of context that interview has been taken," she told AFP. "Nope, [I] have not backtracked, only saying that one booster is probably sufficient for most younger people at the moment."
Petousis-Harris pointed to a recent article co-written by her New Zealand publication Newsroom, discussing whether people should consider getting a second booster.
"The vaccines are still doing what they were originally supposed to do. That is, prevent severe disease and death," the article says.
"However, there are those in whom the vaccines do not work as well, particularly the elderly and people with a range of conditions that prevent them making a good response to the vaccines.
"Also, some people are very frail and even a minor infection can be life-threatening. It is in these populations that a repeated booster dose of vaccine can be very important."