Post falsely claims Nigerian presidential candidate Bola Tinubu back in London for 'medical holiday'
As Nigerian political parties ramp up their campaigns ahead of next year's general election, a Twitter post claimed that the ruling All Progressives Congress' presidential candidate Bola Tinubu had been flown to London for a "medical holiday" on the morning of October 18, just over a week after returning from another UK trip when he went to "rest". But this is false: Tinubu did not leave Nigeria on the day in question. He was in the capital Abuja participating in a ministerial performance review meeting.
"Tinubu arrived Nigeria from London last week, attended only APC campaign launch and Arewa Joint committee session, this morning dem don rush city boy go London again to top up (sic)," the post reads.
Later in the same thread, the Twitter user adds: "City bon don go London for medical holidays! (sic)"
Tinubu is often hailed as a "city boy" by his supporters for his political clout in Lagos city.
The tweet, archived here, was posted by an account called "@victorIsrael_" and has been retweeted more than 3,600 times. The account also posts content in support of the Labour Party's candidate Peter Obi.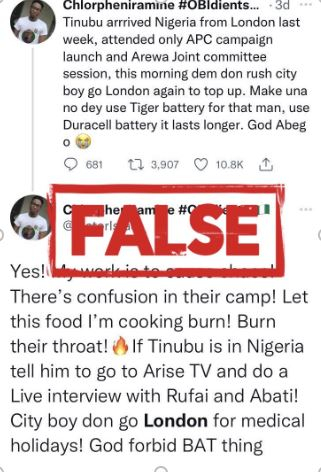 A screenshot of the false tweet, taken on October 19, 2022
The tweet was also featured in this blog post.
Tinubu is in a tight race to succeed President Muhammadu Buhari, who steps down after two terms governing Africa's most populous nation. Voters have expressed concern over the health of Tinubu, a two-term former governor of Lagos state, who returned from a trip to London on October 6, 2022, after leaving the country on September 24, 2022.
During his time away, his whereabouts became the subject of speculation, especially after he missed the signing of a customary peace accord for the upcoming elections. Tinubu was represented at the event by his running mate, Kashim Shettima.
But the claim that Tinubu returned to London on October 18, 2022, is false.
Tinubu in Abuja
Tinubu was not flying to London on the morning of October 18, 2022, as the tweet claimed, but rather attending the opening ceremony of the third ministerial performance review meeting held in Abuja.
Tinubu tweeted photos from the event.
Today, I joined the ongoing 3rd Ministerial Performance Review of the President Muhammadu Buhari led government being held in Abuja. pic.twitter.com/wKuodfLlQQ

— Bola Ahmed Tinubu (@officialABAT) October 18, 2022
Footage posted by TVC, a Lagos-based television station, shows Tinubu's arrival at the event. In the video, people greet Tinubu with "Ekaaro sir", a Yoruba greeting used in the morning – which is when the false tweet claimed he was flying to London.
Tinubu attended the unveiling of his manifesto on October 21, 2022.
Bayo Onanuga, the spokesperson for Tinubu's campaign, told AFP Fact Check that the claim is false and Tinubu was in Abuja on October 18, 2022.
Health concerns
Ahead of next year's election in February, the health of the major candidates has become a major talking point in Nigeria. In 2010, President Umaru Yar'Adua died in office after a long illness, while the current President Muhammadu Buhari spent months away for treatment during his first term in office.
Tinubu was in London for several weeks in 2021 after having surgery on his right knee.
His trip to London at the start of the campaign season in September raised questions, with critics saying it proved he was not fit to run for office.
To dispel the rumours, Tinubu posted a short video on Twitter on October 2, 2022, showing him on a spinning bike and declaring he was ready for the presidential challenge.