Photo shows scene from 1959 German film 'Die Brücke', not actual soldiers in World War II
An image has been shared in multiple social media posts alongside a claim it is a World War II photo of a German soldier consoling a fellow serviceman. However, the claim is false; the photo is actually a scene from a 1959 German anti-war film called "Die Brücke" (The Bridge).
The black and white photo was published here on Twitter on August 23, 2022.
"A German soldier tries to comfort a young, terrified soldier during a WW2 battle," the English-language tweet reads.
"The young soldier must be 14 or 15, is crying and has wet himself. How scared must he have been? #History."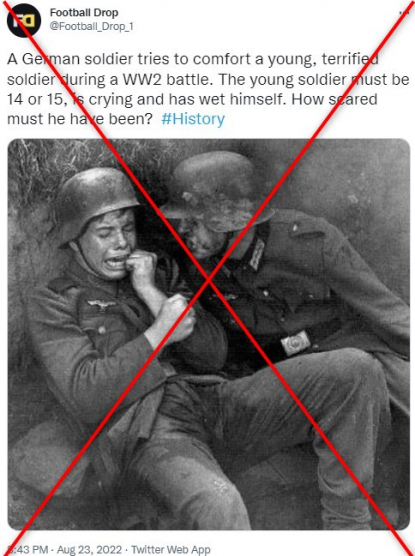 Screenshot of the false post. Taken on October 17, 2022.
The photo has circulated in several regions and languages over several years.
It was shared on Facebook in multiple languages including Spanish, Arabic and Khmer.
In 2019, it was posted to Twitter by a Pakistan user here and Indian film producer Mahesh Bhatt here, where it was shared nearly 200 times.
However, the claim is false.
World War II movie
A reverse image and keyword search found the same photo published here in November 2017 by Australian film magazine Senses of Cinema.
"The Bridge/Die Brücke (1959 West Germany 105 mins)," the movie's title reads.
According to the description, the film tells the tale of "a group of seven German schoolboys who, conscripted into the German army during the desperate final days of World War II, are assigned to defend the titular structure as the Allied army advances towards their village".
Below is a screenshot comparison of the photo in the false posts (left) with the original from Senses of Cinema (right):
Screenshot comparison
An archived version of the one-hour, 38-minute and 19-second movie can also be viewed here.
A scene similar to the photo in the posts can be viewed at the one-hour, 24-minute, 55-second mark.
Below is a screenshot comparison of the photo in the false posts (left) to the corresponding scene in the film (right):
Screenshot comparison
A June 2015 review of "The Bridge" on the website of The Criterion Collection, a classic film distributor, noted the anti-war film was based on an autobiographical novel by German author Gregor Dorfmeister, who was conscripted into the German Nazi party's Volkssturm militia unit in 1945.
"According to 'The Axmann Conspiracy', Scott Andrew Selby's 2012 history of the Third Reich's chaotic endgame, Dorfmeister was conscripted into the Volkssturm at sixteen and, after minimal training, wound up defending two bridges in and around his hometown, Bad Tölz, in the company of six schoolmates; he was the only survivor," the review states.