Tiktok video revives mermaid claims with footage from fictionalised documentary
A viral video on TikTok features an extract from a morning show on South Africa's national television promoting a broadcast purportedly confirming the existence of mermaids. While some users expressed their disbelief at the footage, others took it at face value. But the claim is false: AFP Fact Check found that the morning show segment was part of an April Fool's Day joke in 2014 and incorporated a fake documentary created by Animal Planet.
The video has been viewed more than 84,000 times since it was published on September 20, 2022, on a TikTok account named "The AfroFuturist".
"South Africa Mermaid mystery of the Mother Land Part 1," the caption reads.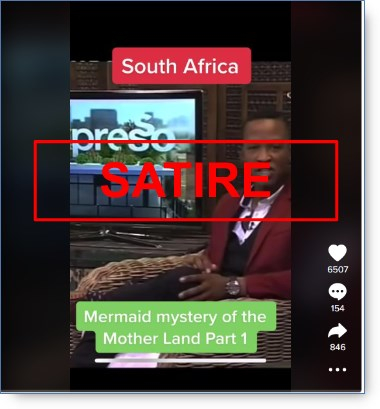 Screenshot showing the false TikTok post, taken on October 3, 2022
The account posted two other videos sharing the same content, but without providing any further context or background.
The video features an extract from the Expresso Morning show produced by the South African Broadcasting Corporation (SABC).
"These findings will truly blow your mind," says the presenter as he introduces an Animal Planet documentary titled "Mermaids: The New Evidence."
The excerpt contains various clips purporting to show actual mermaids. According to a narrator, this was "footage shot in 2013 … of the first sighting of what looks like an aquatic humanoid".
The SABC presenter later tells viewers that archaeologists in South Africa excavated fossils that "quite literally defy scientific reason" and appear "to be the first concrete evidence of the existence of aquatic humanoids".
"That is as real as it gets. This is a true discovery. We are not making this up," he adds.
Some TikTok users seemed to believe the footage was real.
"This is awesome! Doesn't surprise me at all! There's more water than land on earth, and so much depth never touched or explored by humans," wrote one user on September 30, 2022.
"I saw my first mermaid 26 years ago off the coast of NC.. I'm happy there is evidence now and I know I'm not crazy," said another.
Similar comments were left on Expresso Morning's YouTube channel.
"A breakthrough discovery -- probably one of the biggest in the last few hundred years, may finally put to rest the question of whether aquatic humanoids, colloquially known as mermaids, really exist," reads the caption of the clip uploaded on April 2, 2014, without providing any further information.
Animal Planet fake documentary
Searching for keywords "mermaid documentary," AFP Fact Check traced the clips seen in the TikTok video to this 2013 Animal Planet movie, which claimed to prove the existence of mermaids.
A screenshot from the fake 2013 Animal Planet documentary, taken on October 3, 2022
A screenshot from the false TikTok video matching footage from the documentary, taken on October 3, 2022
Although the documentary was widely reported on at the time as a "hoax" and a "fake documentary," the video still widely circulates as evidence that fish-human hybrids are real.
In 2015, Discovery Channel, the parent company of Animal Planet, said it would no longer produce fictionalised documentaries. This followed significant backlash to another fake documentary, Megalodon: The Monster Shark, which suggested the 100-foot shark, extinct for more than a million years, was sighted by Nazis.
Fake documentaries that feature actors impersonating scientists, government cover-up conspiracy theories, and hard-to-spot disclaimers can be potent vehicles for disinformation.
April Fool's Day joke
A keyword search found this post shared by Expresso Morning show asking if viewers were "fooled by our mermaid story yesterday #AprilFools", the same day they shared the video on their YouTube channel.
AFP debunked a similar claim about a mermaid in August.
The National Oceanic and Atmospheric Administration, a US scientific and regulatory agency, has repeatedly stated that "no evidence of aquatic humanoids has ever been found".