Posts falsely claim Philippine media did not cover Marcos Jr's flagship housing project
Facebook and TikTok posts with hundreds of thousands of views claim mainstream media ignored the launch of Philippine President Ferdinand Marcos Jr's flagship housing programme. The posts accuse broadcasters of bias against the leader, the son of a controversial dictator. However, the outlets mentioned in the posts did report on the launch, with major news channel ABS-CBN running it as a top story.
"GMA, ABS, CNN? What now? Do something and report this. Don't be biased," reads Tagalog text overlay on a video shared on Facebook.
The video shows an extract of a news report from Net25, a TV station owned by conservative Christian group Iglesia ni Christo, which backed Marcos Jr in the May 2022 election in which he swept to victory.
The report, which aired on September 22, covers the launch of Marcos Jr's landmark housing scheme, which pledges to build six million homes by 2028.
Text overlay on the video, which attracted more than 37,000 views, praises Marcos Jr and says that mainstream news outlets would "never" report on the project.
The video attracted more than 900,000 views in similar posts on TikTok here and here, along with a flurry of comments criticising media outlets for purportedly failing to cover the event.
"I only saw this here. Why aren't there any other reports about it? Where are the journalists?" one person commented.
"It's good we still have a TV station that reports the truth," another wrote.
Marcos Jr, the son of a late dictator accused of bloody repression and corruption, is one of the most polarising politicians in the Philippines.
His supporters regularly accuse mainstream media outlets of deliberately ignoring him. AFP has previously debunked false claims that news channels did not cover his attendance at a memorial for slain police officers or a visit to shelters erected after a powerful typhoon.
The claim that media outlets failed to report on the launch of Marcos Jr's housing programme is also false.
All the news outlets mentioned in the posts -- GMA, ABS-CBN and CNN -- covered the launch.
GMA aired a report on the "Home for every Juan" project in its evening news programme 24 Oras on September 22. The broadcaster posted the report on YouTube, where it attracted more than 20,000 views.
Meanwhile, ABS-CBN's news channel ANC broadcast a segment on September 14 called: "Top Story: The Marcos Administration eyes providing up to six million housing units for qualified beneficiaries within six years."
ABS-CBN also published a written report on a briefing on the scheme by the housing department.
CNN Philippines covered the same briefing and published a report headlined: "Gov't to build 6M homes to solve housing gap".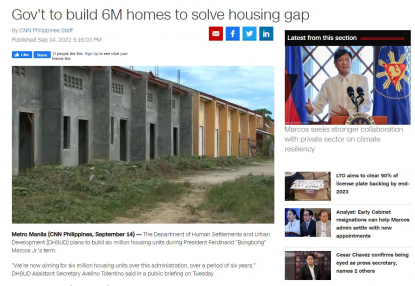 CNN's report on the housing project
The story was covered by various other news outlets, including Inquirer and the PhilStar.
October 5, 2022 This article was updated to replace a screenshot of CNN's report on the housing scheme