Old footage of stranded elephant seal resurfaces after Hurricane Ian
A clip of an elephant seal supposedly lost in a residential neighborhood gained millions of views on Twitter in the aftermath of Hurricane Ian, which devastated parts of the US state of Florida. But the video is out of context; it was taken in Chile in 2020, and marine experts say such seals do not live in the Atlantic Ocean.
"Son, wtf is goin on in florida???" says a tweet shared September 28, 2022, when Hurricane Ian made landfall on the west coast of Florida as a Category 4 storm.
The tweet includes a clip, viewed more than 15 million times, that appears to show an elephant seal passing houses in a residential area.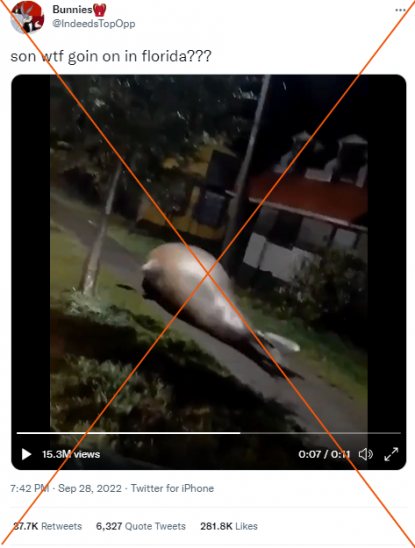 Screenshot of a tweet taken September 29, 2022
Hurricane Ian inundated cities, turned out the lights on millions of residents and left migrants from an overturned boat missing as Florida assessed damage from what the state's governor described as a "500-year flood event."
While the video shared online is real, AFP found it was taken two years ago in Chile and has nothing to do with Hurricane Ian.
The footage was shot in Puerto Cisnes, a port town in the Aysen region of Chile. It was first published on Twitter with text in Spanish in October 2020.
Con apoyo de vecinos de Puerto Cisnes, Armada y Carabineros, se logró traer de vuelta a elefante marino, que recorrió más de 10 cuadras, finalmente con lonas y más de 60 vecinos fue resguardado y llevado a su hábitat. pic.twitter.com/w5rvUzJq53

— Manuel Novoa (@Autentica995) October 6, 2020
News outlets in 2020 covered the lost seal here, here, and here. The same clip was also included in coverage from Tele 13, a Chilean news channel.
In addition to being old, the video shows a species that lives in the Pacific Ocean -- not the Atlantic.
"Northern elephant seals frequent a wide swath of the Pacific coast of the United States, Canada and Mexico," the Marine Mammal Center told AFP in an email. "Their counterparts, the southern elephant seal, live in the South Atlantic, namely sub-Antarctic and Antarctic waters. Two other subpopulations of southern elephant seals are also found in the sub-Antarctic islands of the Pacific Ocean (south of Tasmania and New Zealand) and in the south Indian Ocean -- all well away from tropical waters off the Florida coast."
Véronique Koch, a marine biologist and senior science producer at Duke University, and Hannah Wellman, a coastal zooarchaeologist and Sea Grant Knauss Marine Policy fellow, both told AFP that elephant seals are not present in the waters off Florida.
AFP has fact-checked other out-of-context videos about Hurricane Ian here.