Fake Fiona tweet attributed to Canadian PM
Social media posts share an image of a purported tweet by Canadian Prime Minister Justin Trudeau linking fuel shortages to a major storm that swept through eastern parts of the country. This is false; no such post can be found on the Liberal leader's official Twitter account, and the Prime Minister's Office confirmed that his team never published it.
"Hurricane Fiona has caused major fuel shortages across the entire east coast. This is precisely why our government has committed to developing sustainable energy and electric vehicles, so that we shake our dependence on fossil fuels for good," says what looks like a tweet from Trudeau's verified account that has been shared as an image in a September 27, 2022 tweet.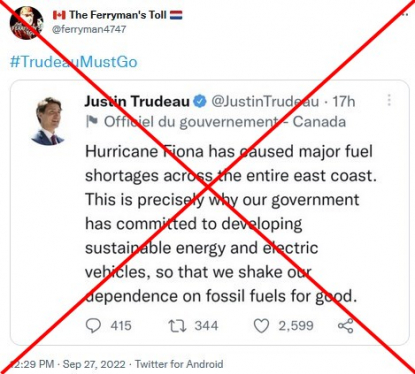 Screenshot of a tweet taken on September 28, 2022
The same image was also shared on Facebook.
The post, which includes what appears to be a screenshot but no link to the purported tweet, circulated amid efforts by Trudeau's government to ramp up electric vehicle production in Canada to meet its commitment to halt sales of gasoline-powered cars and passenger trucks by 2035.
It spread after a devastating storm swept through eastern Canada, cutting power to thousands and washing houses into the sea.
Trudeau canceled a trip to Japan and took to Twitter on September 26 to express support for those affected by Fiona.
Screenshot of a tweet from Justin Trudeau, taken on September 28, 2022
But he never published the tweet linking supposed fuel shortages to the storm.
An archived version of the prime minister's official Twitter account taken on September 27, 2022, does not show the tweet amid the politician's feed.
Trudeau's team also denied they sent such a tweet.
A spokeswoman for the Prime Minister's Office told AFP in an email: "This tweet was never published on the PM's account."
AFP Fact Check previously debunked posts sharing a fabricated CBC story claiming that Trudeau said climate change was to blame for resentment toward politicians.