Posts share old video of Biden remarks on vaccination, hurricanes
Social media users are circulating a clip that appears to show US President Joe Biden urging Americans to prepare for Hurricane Ian's landfall in Florida by getting vaccinated against Covid-19. This is misleading; the video is from August 2021, and Biden's full remarks reveal he was encouraging residents of hurricane-prone states to get the shots to minimize their risk of infection during potential evacuations or while huddling inside crowded emergency shelters.
"Joe Biden's hurricane defense plan," says the text over a video shared widely on Instagram as Hurricane Ian barrelled toward Florida.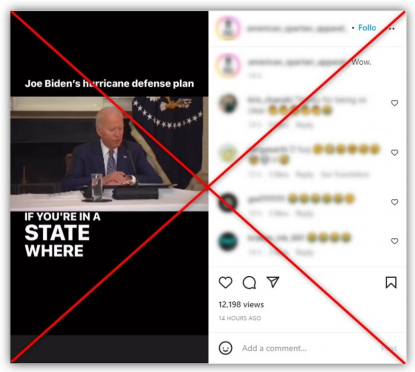 Screenshot taken from Instagram on September 28, 2022
"Let me be clear," Biden says in the clip. "If you are in a state where hurricanes often strike, like Florida or the Gulf Coast or into Texas, a vital part of preparing for hurricane season is to get vaccinated now. Everything is more complicated if you are not vaccinated and a hurricane or natural disaster hits."
The clip was shared in dozens of other posts on Instagram and other social media platforms, such as Twitter and TikTok. Captions on those posts cast the president as inept or out-of-touch, while others accuse him of exploiting Hurricane Ian to force vaccinations on Americans:
"Biden telling people to prepare for the hurricane by getting vaccinated."
"Cat 4 hurricane racing towards Florida? Don't get water, food, or evacuate … get vaccinated!"
"Yeah cause a jab will certainly stop mother nature's 130+ mph SUSTAINED winds."
The remarks highlighted on social media are real. But Biden delivered them more than a year before Hurricane Ian, and the clips shared online omit key context.
Biden made the statement in question August 10, 2021 -- during that year's hurricane season and an influx of Covid-19 cases due to the Delta variant.
The clips circulating online cut Biden's remarks short. Here is what he said in context, with the statement shared online in bold:
Biden did not call for Covid-19 vaccinations while discussing Hurricane Ian during a September 27, 2022 White House address or during calls with Florida officials, according to a readout of those conversations. A fact sheet detailing the administration's storm preparations did not mention vaccines, either.
AFP sent inquiries to the White House, the Federal Emergency Management Agency (FEMA) and the Florida Division of Emergency Management, but responses were not forthcoming.
AFP has fact-checked other misinformation about Hurricane Ian here.