Hoax document shared as internal memo does not show staff fired from Kenya Power
Multiple Facebook posts are sharing a document purported to be an internal memo from Kenya's state-run electricity company claiming that it shows senior employees fired by president-elect William Ruto because they are not from his ethnic group. The claim is false; Kenya Power confirmed the document is fake and that those named were not existing employees. Moreover, the name of the purported signatory belongs to a board member who resigned several months ago, and who was given an incorrect job description in the document.
"Ruto has already started appointing his kinsmen starting with Kenya Power," reads part of a post published on August 23, 2022.
An image purported to be of a company memo dated the same day and signed off by Caroline Kittony as the "Ag, General Manager and Human Resources & Administration (sic)" was shared with the claim.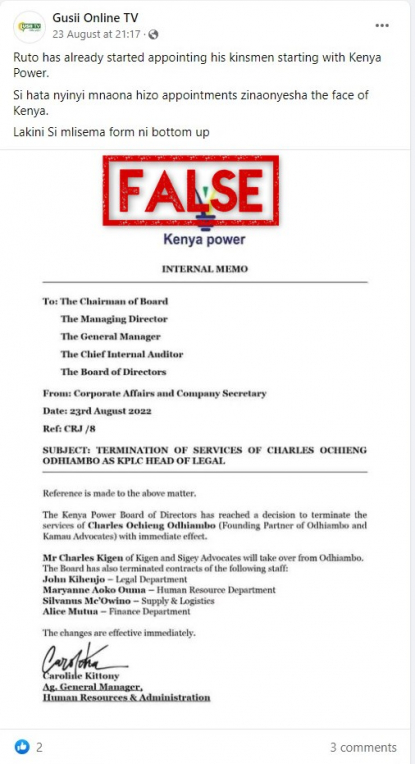 A screengrab of the false Facebook post, taken on August 25, 2022
The document identifies five people purportedly facing dismissal. Their given names indicate they are from specific ethnic communities.
Part of the document reads: "The Kenya Power Board of Directors has reached a decision to terminate the services of Charles Ochieng Odhiambo (Founding Partner of Odhiambo and Kamau Advocates) with immediate effect. Mr Charles Kigen of Kigen and Sigey Advocates will take over from Odhiambo."
Odhiambo is a typical Luo name while Kigen commonly comes from the Kalenjin community, the same as Ruto's.
Kenyan politics is deeply rooted in ethnicity and this reflects in the appointment of civil servants.
Government surveys indicate some ethnic groups dominate the civil service – which is the country's largest employer – leaving others only marginally represented (see here and here).
Similar claims were shared on Facebook (here, here and here) as well as on Twitter.
But the memo is false.
Fabricated memo
A look at the company's website confirms the purported signatory, Kittony, is neither in human resources nor a general manager.
She did serve as a member of Kenya Power's board for two years but resigned in May 2022 to pursue "other personal interests".
Her departure, therefore, predates the document she purportedly signed by three months.
"That is not my signature," Kittony said to AFP Fact Check. "I have never been part of the management team at Kenya Power. I acted in a non-executive role until May this year when I resigned. That memo is completely fictitious and I have no link to it. Further, I have no clue who the people mentioned in the memo are."
According to Kenya Power's website, the HR office is currently run by Cecilia Kalungu.
Company spokesperson Immaculate Kubai confirmed to AFP Fact Check that none of the names mentioned in the memo are people employed at Kenya Power.
"The memo is fake," Kubai said.
Kubai added that the company's website has an updated version of members of the board and the management team.
Kenya Power also dismissed the claim on Twitter.
Ruto was announced the winner of the elections held on August 9, 2022, but his chief rival Raila Odinga is seeking to overturn the results in court citing irregularities.
August 29, 2022 Update: adds comment from Kittony