New York Times did not 'use photo of private school' in article about Delhi public schools
Multiple posts shared hundreds of times in India claim The New York Times misleadingly used a photo of an Indian private school in a front-page story about improvements in the South Asian nation's public schools. The posts go on to claim that the newspaper was paid to publish the story. These claims are false. In fact, the newspaper used a photo from a New Delhi-based public school. A spokesperson for the paper said the article was not a paid-for advertorial and instead reflects its "impartial" and "on-the-ground reporting".
"New York Times and Khaleej Times published the news in exchange for money. The habit of lying and theft is their instinct. These photos do not show Delhi's government school, but they show Mother Mary's school in Mayur Vihar," the Hindi-language claim shared in this Facebook post on August 21 reads in part.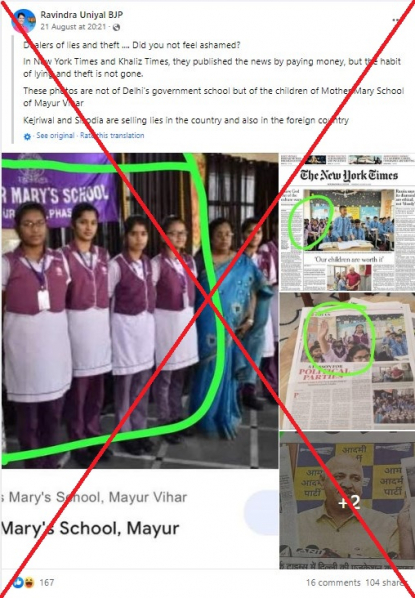 Screenshot of the misleading Facebook post, taken on August 26.
The post, shared more than 100 times, includes a screenshot of a front-page article about government-supported public schools in India's capital Delhi published in the New York Times international edition on August 18, 2022.
The article -- headlined "Clean Toilets, Inspired Teachers: How India's Capital Is Fixing Its Schools" -- reported that improved facilities in Delhi's public schools had resulted in more families choosing them over private schools.
The same article was republished in Dubai-based daily Khaleej Times on August 19, 2022. 
Another image in the post shows a group of female students -- some of whom have been circled in green -- from Mother Mary's School, a private girls' secondary school in East Delhi. It claims the newspaper used a photo taken from the school's website in a story about public school education.
The third image also shows what appears to be a newspaper page featuring a photo of female students, while the fourth and fifth photos show Delhi's Deputy Chief Minister Manish Sisodia holding two editions of The New York Times.  
The same images were shared alongside a similar claim on Facebook here and on Twitter here, here and here. 
The claim, however, is false.
School uniforms
A closer analysis of the school uniforms pictured in the newspaper's article reveals the photo was taken at Kakrola Sarvodaya Vidyala, a New Delhi-based government-run secondary school.
"If you zoom in on the students' uniforms in the picture, it clearly shows the logo of the Sarvodaya public school we have written about, and not any other", said Nicole Taylor, a spokeswoman for the New York Times. 
While the girls at Kakrola Sarvodaya Vidyala school are pictured wearing a smock with a light purple collar, their counterparts at Mother Mary's School are shown wearing a smock with a dark purple collar.
Below is a screenshot comparison of the image in the New York Times' front-page story (left) and the photo of students at Mother Mary's School, with the uniform's collar circled in red: 
Ajay Kumar, head of Kakrola Sarvodaya Vidyala, also told AFP that images published by both the New York Times and the Khaleej Times were taken at their school.
"Yes, the images were taken at our school in Kakrola by the NYT correspondent Saumya Khandelwal. The images showing mid-day meals and kids washing hands [in Khaleej Times' article] are also from our school," he said.
Below is another screenshot comparison of the image published by the Khaleej Times (left) and the photo of Mother Mary's School students (right) showing the difference in collars:
Not advertorial
Taylor said its front-page story from August 18 was based on "impartial, on-the-ground reporting" and was not a paid-for piece.
"Journalism from The New York Times is always independent, free from political or advertiser influence," she said. "Other news outlets routinely license and republish our coverage."