Photo from 2014 shows terror suspect killed in Nigeria, not lynching of boy
Divisions in Nigeria between the Muslim majority north and Christian south have seen fatal clashes along tribal and religious fault lines. A recent Facebook post played on these tensions by sharing a photo with claims that it showed a boy from the southeast being lynched by religious fanatics in Kaduna, northwest Nigeria, for urinating near a mosque. However, this is false: the photo was taken in 2014 when a mob killed a suspected Boko Haram insurgent in the country's northeast after several terror attacks. 
"The boy was alleged to have urinated on a gutter close to a Perimeter Wall of a Mosque in state capital, Kaduna (sic)," reads the post published on August 14, 2022.  "The religious fanatics plucked off his eyes, tortured him severely and set him ablaze alive (sic)."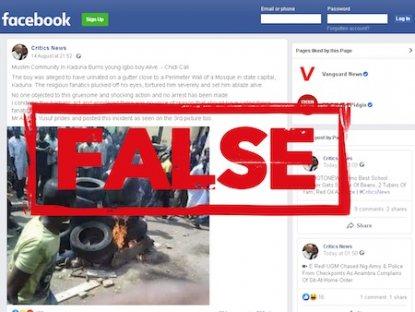 A screenshot of the false Facebook post, taken on August 14, 2022
The post has been shared more than 700 times and includes an image of a crowd surrounding a stack of burning tyres. At the bottom of the pyre appear to be the legs of a person wearing blue trousers. 
The page that shared the photo has more than 96,500 followers and frequently publishes posts sympathetic to a separatist group called the Indigenous People of Biafra (IPOB). 
IPOB is pushing for the independence of Nigeria's southeast, the same region where the boy mentioned in the claim is said to be from.  
The organisation has a  history of spreading disinformation and has been the subject of various debunks by AFP Fact Check.  
The latest claim is also false.
Mob kills terror suspect
AFP Fact Check conducted a reverse image search and found that a Nigerian blog published the image along with two other similar images on November 18, 2014.
According to the site, the pictures captured the death of a suspected Boko Haram insurgent who allegedly wanted to plant an explosive device at a bus station in Gombe in northeast Nigeria. 
Explosions at another bus station in the state had killed at least eight and injured 41 others weeks earlier. And two separate attacks on two towns in the state had forced the government to shut down schools days before the mob action occurred. 
The decade-long insurgency in northeastern Nigeria has killed more than 36,000 people and displaced about three million people.
Nigerian broadcaster Channels TV also reported on the killing of the suspected insurgent, using the same picture seen in the false post.
The claim was already circulated in 2019 with the same image. At the time, Kaduna police called the post "fake" and "callous". The timing coincided with a plan by the Nigerian government to create grazing reserves for herders as part of the solution to fatal farmer-herder clashes.
Critics of the move said it was a backdoor way of asking states – including some in the southeast – to cede lands to Fulani herders from the north.