Posts mislead on impact of climate change on Australia's Great Barrier Reef
Social media posts appear to downplay the damage climate change can cause coral reefs by comparing two tweets -- one from 2014 about scientists' predictions that warming oceans would harm Australia's Great Barrier Reef, and one from 2022 about a rebound in coral growth there. However, the comparison is misleading. Scientists say that despite an increase in coral at the vast UNESCO heritage site, it remains at risk of cyclone damage, extinction of rare species and bleaching as a result of warming oceans.
"Have the climate catastrophists *ever* got a prediction right?" reads an Instagram post from August 6.
The posts show two tweets about coral reefs superimposed over a photo of climate activist Greta Thunberg.
The first tweet, which was posted by AFP on March 5, 2014, reads: "Time is running out for Great Barrier Reef, with climate change set to wreck irreversible damage by 2030: scientists."
The second tweet, posted by US broadcaster NBC4 Washington on August 4, 2022, reads: "Two-thirds of the Great Barrier Reef in Australia recorded the highest amount of coral cover in nearly four decades."
Australia's Great Barrier Reef is the world's largest coral reef system and a UNESCO heritage site.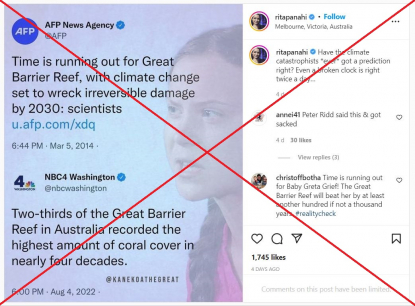 A screenshot of the misleading Instagram post as of August 10, 2022.
The image was shared in similar posts on Facebook and Telegram.
However, the comparison is misleading.
Climate scientists overwhelmingly agree that carbon emissions from humans burning fossil fuels are heating the planet, with global heating spawning massive marine heatwaves that are killing off coral reefs and expanding dead zones bereft of oxygen.
And despite bursts of growth in the Great Barrier Reef, coral reefs remain vulnerable to the effects of climate change.
NBC4 Washington's tweet links to an article about a report published in August 2022, which found an increase in coral reef cover in the northern and central Great Barrier Reef.
Researchers at the Australian Institute of Marine Science, who monitored 87 reefs between August 2021 and May 2022, recorded the highest amount of coral cover in the northern and central reef since monitoring began in the 1980's.
Mike Emslie, who led the monitoring team, said in a press release that most of the increase was driven by a species of fast-growing corals.
He pointed out that these Acropora corals were particularly vulnerable to bleaching -- where corals lose their colour under the stress of warmer seas -- and wave damage caused by strong winds and tropical cyclones.
"The 2020 and 2022 bleaching events, while extensive, didn't reach the intensity of the 2016 and 2017 events and, as a result, we have seen less mortality," he said.
"These latest results demonstrate the reef can still recover in periods free of intense disturbances."
The report warned that the recovery of reefs was tenuous, noting: "Future disturbance can reverse the observed recovery in a short amount of time."
And while coral cover improved in the northern and central reef, the southern region saw a fall in average coral cover from 38 percent to 34 percent in the period studied.
Fragile comeback
Lucie Penin, an associate professor specialising in coral reef ecology at the University of Reunion Island, said that growth in parts of the reef did not mean that the vast ecosystem was safe from the effects of climate change.
"The Great Barrier Reef is, as the name suggests, big. Different areas don't evolve in the same way and at the same time," she told AFP.
"The reef has not been 'saved', and the risk of large areas of extensive mortality from bleaching in the years to come is extremely high."
Speaking to AFP for an article on the study, Zoe Richards, a researcher at the Coral Conservation and Research Group at Australia's Curtin University also cautioned against over-optimism.
"This recovery trend is driven by a handful of Acropora species which often grow in a boom-and-bust pattern," she said. "This means that the next thermal stress event could easily decimate these coral communities once again."
"We are already finding evidence that each mass bleaching event leads to local extinctions of rarer species, so the short-term success of a handful of fast-growing coral species masks the full story about the largely hidden losses of biodiversity."
August 17, 2022 Fixed typo in fourth paragraph