Video does not show bandits struck by lightning in Nigeria, but rather victims of explosion in Tanzania
Footage of several charred bodies lying on the ground has been circulating on WhatsApp with claims it shows bandits struck by "lightning and thunder" while on the way to attack Christians in Nigeria's majority-Muslim Zamfara state. However, the claim is false: the video was filmed in Tanzania in 2019 and shows victims of a tanker explosion in the country's eastern city of Morogoro.
The video clip has been shared on WhatsApp in messages claiming that the incident occurred "yesterday" – several months after the same claim first surfaced on Facebook.
"It happened in Zamfara State yesterday. I was told the Bandits were going to attack some Christians and on their way Lightning and Thunder struck and they were roasted beyond measure (sic)," reads a message posted in a WhatsApp group on June 26, 2022. "Who told u there is no God?"
The graphic clip shows an exploded tanker still in flames near a forest and a number of burnt bodies.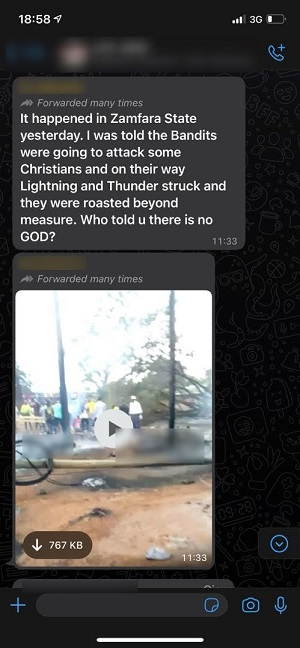 Screenshot taken on June 26, 2022, showing the false WhatsApp post (blurring added by AFP Fact Check)
The claim has been "forwarded many times" on WhatsApp, according to information provided by the social network. 
Zamfara is located in Nigeria's northwestern region where heavily-armed criminal gangs, known locally as bandits, often raid villages, kill residents and carry out mass kidnappings for ransom. Local authorities recently announced that residents would be granted gun licences to repel further attacks.
But the footage is unrelated to the violence in Nigeria's northern region.
Video from Tanzania
Using the video verification tool Invid-WeVerify, AFP Fact Check ran a reverse image search on keyframes from the footage. 
This search led to a report by Tanzanian broadcaster Independent Television (ITV) about a fuel tanker explosion in Morogoro, a city in the country's east. It features an image that shows a similar scene to the one in the video. 
Another reverse image search on the picture featured in ITV's report – adding keywords such as "Morogoro tanker explosion" – led us to a similar video clip from August 10, 2019. The news report was uploaded to YouTube by Kenyan broadcaster NTV. 
"60 feared dead after fuel tanker exploded in Morogoro, Tanzania," reads NTV's caption in the report. It features the same tanker explosion scenes but was filmed from a different angle.
AFP Fact Check observed that the burning tanker, charred bodies, trees in flames, buildings and other physical features visible in the WhatsApp video match the image in ITV's report and scenes in NTV's video.
Screengrabs showing similarities between the WhatsApp video (L) and NTV's footage
An AFP journalist in neighbouring Kenya confirmed that the language heard in the video is Swahili, which is widely spoken in Tanzania. A man can be heard saying: "We are removing this. We are removing this. There's a problem on the other side".
The same video has also been falsely used to portray xenophobic attacks in  South Africa in September 2019.