Imposter site promoting 'free housing' programme in the Philippines misleads online
A graphic purportedly from the Philippines' Department of Social Welfare and Development promoting a "free housing" programme has been shared thousands of times by social media users in the country. However, the graphic was shared by a Facebook account impersonating the country's social welfare agency. An agency representative told AFP it has no "free housing" programme.
The Tagalog-language graphic was shared on June 24 on a Facebook page called "DSWD" -- the initials of the Philippines' Department of Social Welfare and Development.
It translates to English as: "Free housing for the whole of the Philippines. Sign up through the link so you will be included."
The post's caption translates as: "FREE HOUSING!!!!!!!! Good news Just message us now."
The post includes a link to a blog called "DSWD NEWS AND UPDATE".
The blog promotes a cash handout offer and features images of Ferdinand Marcos Jr and Sara Duterte -- whose terms as president and vice-president start on June 30.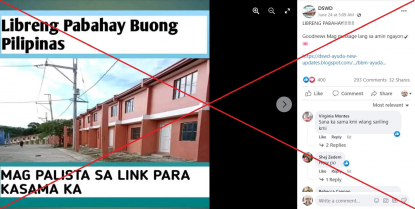 Screenshot of the false post taken on June 30, 2022
The identical graphic was also shared more than 2,400 times on Facebook here, here and here.
Commenters appeared to believe the Philippine government was offering free housing.
"Hope I will be chosen so we will have our own house," one wrote.
"I wish we are included... we are renting... for 9 years now," another comment reads.
But Irene Dumlao, the officer-in-charge of the agency's social marketing service, told AFP: "DSWD has no free housing program."
Imposter account
Dumlao added the agency has "no affiliation" with the Facebook account that shared the false claim.
"The official Facebook and Twitter account of the Department carry the account name/handle @dswdserves," she said.
The DSWD's official page features a blue verification badge, which indicates that Facebook has confirmed it is an authentic profile.
It was created on September 7, 2010 and has over a million followers.
In contrast, the imposter page is not verified and has only 24,000 followers. It also claims to be a "personal blog".
AFP has previously debunked similar imposter accounts here and here falsely claiming the DSWD is offering cash handouts.