Posts misrepresent 2019 amendment to Kentucky anti-abortion law
Social media posts claim to show the details of a recent amendment to an anti-abortion bill in Kentucky. This is misleading; the amendment is real, but it is not under consideration -- a Democratic lawmaker proposed it in 2019 to protest a bill that would later outlaw abortion in the US state.
"Kentucky has lost her mind," says a June 27, 2022 Facebook post, which includes a screenshot of the amendment and a link to the bill.
Text in the screenshot says: "All women who are Kentucky residents, and of child bearing age, shall acquire a signed and notarized statement from a practitioner licensed pursuant to this chapter each month that states whether she is pregnant or not pregnant."
"Any woman who fails to provide this monthly signed and notarized statement to the cabinet shall be subject to arrest and fines," the amendment continued.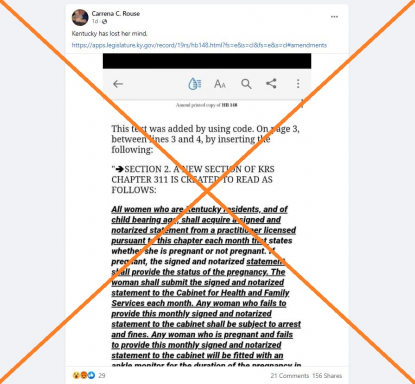 Screenshot of a Facebook post taken on June 29, 2022
Similar posts-- including some from elected officials and political candidates -- have accumulated hundreds of interactions on Facebook and Twitter, according to CrowdTangle, a social media insights tool.
"And so it begins. This is KY," says a June 26 post on Facebook. "How long before other states do the same? It was never about babies. It was about control."
The posts circulated online after the US Supreme Court ruled on June 24 to overturn Roe v. Wade, the landmark 1973 decision that made abortion a right nationwide. Kentucky was one of several US states that immediately prohibited abortion following the ruling.
The amendment pictured in the posts is authentic. But it is not under consideration -- a Democratic state lawmaker proposed the measure in 2019 to protest Kentucky's so-called "trigger law."
The Human Life Protection Act, which went into effect after the Supreme Court overturned Roe, prohibits surgical and medication abortion with few exceptions. While those who receive abortions cannot be held criminally responsible, those who perform them -- including doctors and nurses -- could face one to five years in prison.
Prior to then-governor Matt Bevin signing the bill into law in March 2019, Democratic representative Mary Lou Marzian proposed the amendment pictured in the social media posts.
In a June 27, 2022 thread on Twitter, Marzian said she "vehemently opposed" the Human Life Protection Act and "filed an amendment that would have required all women to undergo monthly pregnancy checks by the state." However, she maintained that the amendment was "satirical."
Since Friday's horrendous US Supreme Court ruling on abortion, I have seen several references to a satirical amendment I filed in 2019, when the General Assembly passed the trigger law that immediately stopped elective abortions once the decision to overturn Roe v. Wade was made.

— Mary Lou Marzian (@MaryLouMarzian) June 27, 2022
"I of course never intended it to become law, and it was never considered (although I worry we're getting closer to that reality)," she said. "There is no stronger supporter of reproductive freedom in the General Assembly than I am, and I want to be clear that my amendment was designed to highlight the war on women we have seen in the legislature the last five-plus years."
Similarly, in 2016, Marzian co-sponsored a bill that would have required Kentucky men to get signed permission from their wives before obtaining a prescription for Viagra, a drug used to treat erectile dysfunction. She told the Louisville Courier Journal at the time that the measure was a response to several anti-abortion bills in the state legislature.
Social media posts sharing Marzian's 2019 proposal are part of a pattern in which parody bills from lawmakers are taken out of context online, contributing to the spread of misinformation. AFP reached out to Marzian for additional comment.
AFP has fact-checked other claims about abortion here.