This is not a new coin minted by Algeria, but an artistic design shared on Instagram
Various posts claiming to show a new coin issued by Algeria with the Arabic inscription "Jerusalem is ours" and an image of the Al-Aqsa mosque have been widely shared on social networks, including in Ethiopia. But the claim is false; the images circulating are only a creative concept. The coin does not exist.
The post, archived here, was published on Facebook on May 22, 2022, and has been shared more than 250 times, generating nearly 1,000 reactions and 90 comments. 
Written in Amharic, the caption translates to: "Algerian government launches 500-denomination Al-Aqsa Mosque and a coin with the words 'Jerusalem is ours' Al-Aqsa is our Muslim (sic)".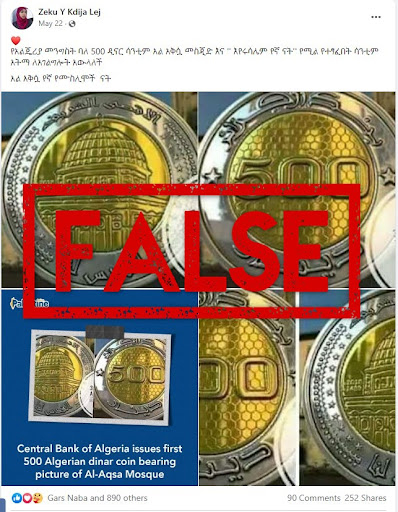 Screenshot of the false Facebook claim, taken on June 23, 2022
The post consists of four images showing both sides of a silver-and-gold coin with a denomination of "500" on one side and a rendering of what appears to be the Al-Aqsa mosque on the other. 
Arabic inscriptions on the outer edges of the coin read "Bank of Algeria" and "500 Dinars", and "The Holy Aqsa" and "Jerusalem is ours" on the reverse.
One of the images includes a line of English text, reading: "Central Bank of Algeria issues first 500 Algerian dinar coin bearing picture of Al-Aqsa Mosque". 
The same claim was also shared here on Twitter. 
Al-Aqsa mosque is located in east Jerusalem and is considered to be the third-holiest site for Muslims. In Judaism, the site is the holiest place known as the Temple Mount.
AFP graphic showing Al-Aqsa Mosque in Jerusalem
However, the claim that Algeria has released a new coin featuring a likeness of the mosque is false.
Artistic design
By running a reverse image search, AFP Fact Check found an Instagram page with the same graphic showing both sides of the purported coin. Text on the graphic gives credit to "Abderrezak Bouhedda".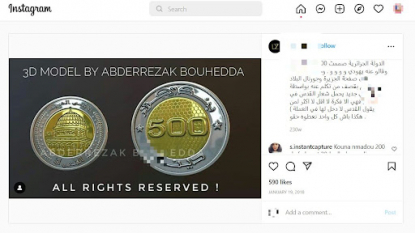 Screenshot of the Instagram post, taken on June 23, 2022
The Instagram caption, written in Arabic, gives further details.
It reads in part: "The young artist Abderrezak Bouhedda, a specialist in 3D art and programming who designed a three-dimensional 500 Algerian dinar, about whom several rumours were published and whose art was stolen and published by pages claiming that the Algerian state designed the 500 Algerian dinar."
Contacted by AFP Fact Check, Bouhedda confirmed that the designs belonged to him and were created "as a fictional idea (...) and as an idea of what it would have looked like if it were real."
No 500 dinar coins have been minted, according to the Bank of Algeria's website.
An online travel guide to Algeria lists the country's full range of legal tender: "Coins are available in 100, 50, 20, 10, 5, 2 and 1 groupings while notes are available in 1,000, 500, 200, 100 and 50 dinar denominations." 
An AFP journalist based in Algeria also confirmed that the country's Central Bank has not issued any new coins.
As of June 28, 2022, one US dollar is worth approximately 146 Algerian dinars.
The same claim has been circulating in Arabic and was debunked by AFP Fact Check here.