No evidence to support claim that Nigerian governor's adviser was attacked in Lagos
A post shared more than 1,000 times on Facebook claims that Joe Igbokwe, adviser to the governor of Lagos state in Nigeria, was recently attacked and his cars set ablaze. The claim is misleading; Igbokwe, whose home in Anambra state was set on fire last year, denied being the victim of a recent attack in Lagos. Police also rejected the claim as false.
"Yoruba youths attack Joe Igbokwe set his Cars on fire in Lagos State. Demands him to move back to Igbo land (sic)," reads a post published on Facebook on June 22, 2022.
It includes two images: one of Igbokwe and another showing a building on fire.
A screenshot of the false Facebook post, taken on June 23, 2022
The page responsible for the post has more than 104,000 followers and publishes political and celebrity gossip, as well as content sympathetic to the Indigenous People of Biafra (IPOB), a separatist group pushing for the independence of Nigeria's southeastern region.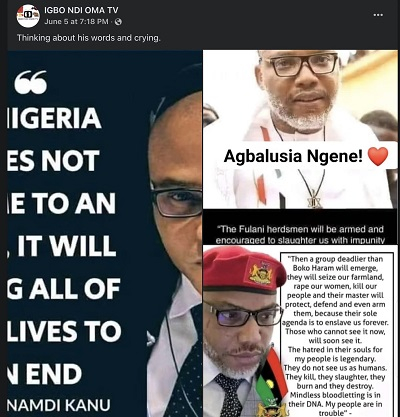 A screenshot of a post published by the page, taken on June 26 2022
Igbokwe is Igbo from southeast Nigeria. The Yorubas are found in the southwest of the country and parts of north-central Nigeria. 
The post, shared more than 1,200 times, was published eight months after Igbokwe told a Nigerian daily newspaper The Punch that people may be wary of voting for an Igbo person as president because of IPOB's ambitions for independence.
In April, Igbokwe made another controversial claim according to which Nigeria's Minister for Transportation Rotimi Amaechi had supposedly distanced himself from being an Igbo man. Amaechi refuted having said this. One of most important Igbo groups, Ohaneze Ndi Igbo, said Igbokwe's claim was "defamatory, calumnious and slanderous," insisting that Amaechi was Igbo. 
However, the claim that Igbokwe, who lives and works in Lagos state where he is a special adviser on drainages and water resources to Governor Babajide Sanwo-Olu, recently came under attack is misleading.
While his country home was indeed targeted by arsonists, the incident took place late last year and did not happen in Lagos.
No evidence Igbokwe was attacked
Igbokwe's home in Nnewi, Anambra, southeast Nigeria, was attacked and parts of it were set on fire the same month he granted The Punch the controversial interview last year. He blamed IPOB for the arson.
This is the same house as seen burning in the image shared on Facebook.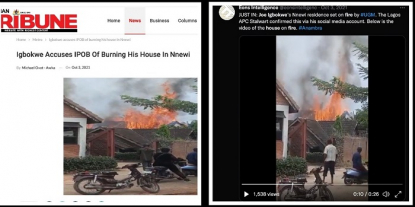 Screenshots showing a photo and video of Joe Igbokwe's house on fire, first published online on October 3, 2021
On June 19, 2022, a bus in the convoy of the APC presidential candidate Bola Tinubu, who Igbokwe supports, was attacked in Lagos. But Igbokwe was not travelling on the bus, which was conveying journalists. 
Police spokesman in Lagos Benjamin Hundeyin told AFP Fact Check that there was "no record of such" and attack on Igbokwe as claimed in the recent Facebook post. 
Igbokwe also refuted the claim on Facebook,  describing it as "fake news".