Video from Lagos wedding shows gift bags with groceries for guests, not money for politicians
A video has been circulating on social media in Nigeria with the claim that it shows bags of money to be shared among party electors at the presidential primary of the country's ruling All Progressives Congress (APC). However, this is false; the video has been circulating online since January and was taken at a wedding in Lagos. Furthermore, the bags contained groceries and appliances, not cash.

"Tinubu sharing bags of money to delegate (sic)," reads the caption on a Facebook post published on June 9, 2022.
A TikTok video shared with the post shows large carrier bags being arranged outside what looks like an event hall. A woman's voice can be heard speaking Yoruba, a language spoken predominantly in southwest Nigeria and parts of the Republic of Benin.
The caption on the video reads: "APC delegate Bola Ahmed Tanibu is ready for you."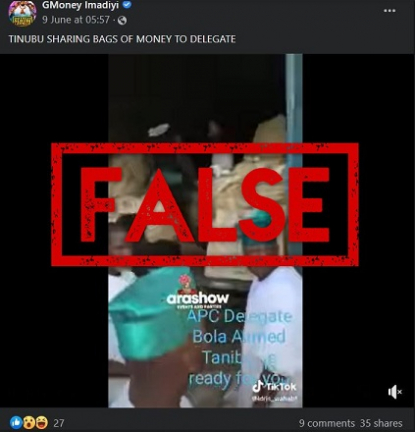 Screenshot of the false Facebook post, taken on June 10, 2022
Bola Ahmed Tinubu, an influential former governor of Lagos state, was nominated as the APC's presidential candidate during a party primary held in Abuja, Nigeria's capital city.
The video's circulation on Facebook coincided with the event, held from June 7-8, 2022.
To nominate their presidential candidates, many Nigerian political parties conduct internal elections called congresses through which delegates are elected.
The delegates then elect candidates to represent their parties. It is not uncommon for those seeking to be candidates of their parties to financially induce the delegates.
However, the video in question is unrelated to the APC primary and was, in fact, filmed months beforehand in Lagos, not Abuja.
Video from a wedding
AFP Fact Check conducted reverse image searches on keyframes of the clip and found a report published online by Legit.ng on January 13, 2022. It contained screenshots from the original version of the misleading video and a broken link to an embedded Instagram post credited to @arashoweventsandparties.
The handle itself is no longer available online. But another account with an almost identical name (@arashowpartiessandeventss) has published hundreds of videos with the same logo seen on the original video.
A screenshot of the logo, which also appears on the misleading video
Instablog, one of Nigeria's most popular Instagram pages, also published the video on January 11, 2022, without any reference to Tinubu in its caption, which read: "Jaws drop at the sight of huge souvenirs shared at a wedding ceremony in Lagos."
Instablog credited the deleted Instagram account as the owner of the video.

Comparison screenshots show how Instablog published the video (L) without the misleading reference to Tinubu (R)
It was this video that was used to mislead people on Facebook.
A TikTok handle called 'idris_wahab1" seen in the top left corner published the video on May 29, 2022, several days before the APC presidential primary.
It does not include the text overlay about Tinubu but a misleading caption that read: "Trending bag of money shared in party for attendants."
No cash in the bags
A second video published by Instablog showed the bags did not contain money as claimed but were filled with groceries and appliances.
A screenshot of another video published by Instablog on January 11 shows the content of the bags
At the beginning of the video, a woman says on camera that each of the bags will be gifted to "one person at Gbonjubola's wedding", meaning the guests. She also mentions in Yoruba that Gbonjubola is the same person as Alhaja Ruka (Ruka is a contraction of Rukayat, a Muslim name).
A separate but longer video published by City People Magazine on its YouTube channel and a photo essay on its website showed that the footage was shot at a wedding between Olaide Ummu-Khayr Lawal and Damilola Abdul-Saleem Lawal on January 9, 2022, at the Five Palm event centre in Oniru in Lagos.
A copy of the wedding invitation published by City People reveals that one of the parents of the bride is Alhaja Rukayat.
A copy of the wedding invitation published by City People