Facebook posts falsely claim rail operator in South Africa has job openings for Soweto-Jo'burg route
Multiple posts on Facebook allege that the Passenger Rail Agency of South Africa (PRASA) is hiring people to fix its railway lines from Johannesburg to Soweto. But PRASA has confirmed the claim is false, saying that all vacancies are advertised exclusively on its official websites. South Africa is fertile ground for online job scams as the country grapples with spiralling unemployment. This latest hoax even prompted candidates to spontaneously show up at PRASA's premises, according to the agency.
"PRASA is hiring for fixing of railway lines from Soweto to Johannesburg. Take your certified ID copy and Original ID book to Johannesburg Park Station, Prasa Offices. Kindly plug others," read Facebook posts published here and here on June 8, 2022.

A screenshot of one of the false Facebook posts, taken on June 14, 2022
Comments below the post indicate that people believe the jobs are legitimate, with some asking for more information about the available positions, including contact details.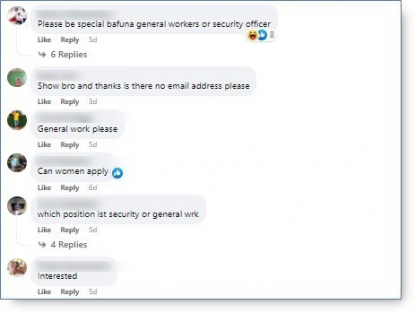 A screenshot of the comments in one of the false Facebook posts, taken on June 14, 2022
Scandal-hit railway agency
Parastatal PRASA has been plagued by numerous scandals in recent years. In 2015, its chairman admitted that 70 new trains imported from Spain did not fit the tracks in South Africa – a blunder that cost R600 million ($37 million).
That same year, South Africa's then public protector, Thuli Madonsela found the agency guilty of maladministration. Her report said that the former group CEO, Lucky Montana had irregularly awarded tenders, appointed companies, and suspended employees.
A tender for the maintenance of the trains was extended multiple times in 2019 after years of no servicing. On March 22, 2022, Minister of Transport, Fikile Mbalula said that it will cost PRASA about R4 billion to repair damaged infrastructure as a result of vandalism.
Some train lines reopened in 2020 and 2021, however, financially strained commuters are still facing months of repairs to some of the railway infrastructure. 
Blowing smoke
The agency rejected the job post claims on June 9, 2022, saying that applying for the "convincing" advert would be a "wasted effort". 
"PRASA advertises its vacancies or careers on its website, social media and newspapers," the agency tweeted.
A screenshot of the statement on Twitter, taken on June 15, 2022
The agency also invited job seekers to verify job postings on Twitter and Facebook.
PRASA told AFP Fact Check they had been inundated with enquiries since the start of the month, with up to 50 people arriving physically with their CVs or calling based on the Facebook posts.
South Africa is fertile ground for job scams – more than a third of the country's labour force is unemployed.
AFP Fact Check has previously debunked numerous fake job postings in South Africa (here and here) ranging from purported Post Office vacancies to applications for the military.  
Digital verification organisations Africa Check and DFRLab published a report on May 26, 2020, describing how scammers use Facebook to prey on the unemployed to make money.