ExxonMobil says fuel card offers are 'fraudulent'
Amid soaring US gasoline prices, Facebook posts claim ExxonMobil is offering gift cards to people who fill out a form online. This is false; a company representative told AFP it is not giving out such cards, and the posts link to an imposter website.
"Gas prices have surged around the world. Exxon is helping Americans by giving $500 Gas Cards for only $1.95. Answer 3 questions," says a June 13, 2022 Facebook post.
The post links to a website that displays the oil and gas company's logo and refers to a "loyalty program."
"You have been chosen to participate in this survey," the webpage says.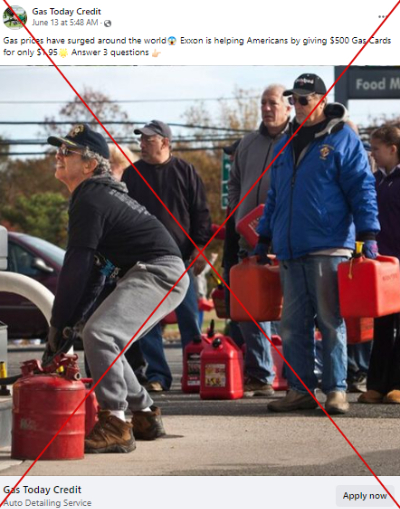 Screenshot of a Facebook post taken June 16, 2022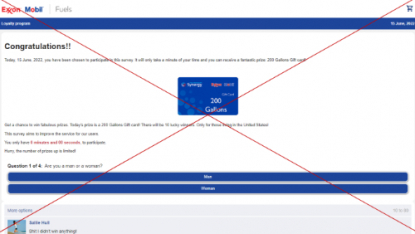 A screenshot taken June 15, 2022 shows a website claiming to offer Exxon fuel gift cards
The same claim circulated on Facebook here. But ExxonMobil did not authorize these promotions and the website is fake.
"We are aware of fraudulent Facebook ads that are falsely representing gas card promotions from ExxonMobil. We are not providing the services as claimed," Julie King, a spokeswoman for ExxonMobil, told AFP.
King added that the company had notified Facebook of the posts.
The posts are part of a series of offers, all shared in June by various Facebook pages, that impersonate oil and gas companies -- including Shell -- to dupe consumers amid rising inflation and record-high gas prices in the US.
Playing on consumers' anxiety
Online offers for benefit cards and other giveaways are a common tactic scammers use to obtain social media users' personal information. 
John Breyault, vice president of public policy, telecommunications and fraud at the National Consumers League, told AFP the posts showed several "indicia of scams." Among them: inducing a sense of urgency with a countdown clock and displaying comments on a fake webpage.
"Latching on to a current news item (high fuel prices) to draw on consumers' anxieties is a tried-and-true tactic by scammers to get potential victims to engage," Breyault said. "Given consumer anxiety about high fuel prices, I would expect that there are or soon will be scams out there impersonating most of the big fuel brands."
AFP Fact Check has debunked other fraudulent ads and offers here, here and here.