Posts spread false claims about Paul Pelosi's DUI case
Social media posts claim Nancy Pelosi, speaker of the US House of Representatives, requested that California Governor Gavin Newsom intervene to drop charges against her husband Paul Pelosi after he was arrested on suspicion of driving under the influence of alcohol. This is false; the district attorney's office in Napa County said it was reviewing the case, and Pelosi's deputy chief of staff, a Newsom spokeswoman and the California Highway Patrol all refuted the claim.
"BREAKING: All charges have reportedly been dropped against Paul Pelosi for his DUI crash. Gavin Newsom reportedly intervened at the request of Nancy Pelosi and directly ordered the California Highway Patrol to drop all charges," says a June 8, 2022 tweet from "The Sly Show," a self-described "unfiltered, inappropriate, irreverent, unpredictable, & insane talk show."
Other users on Twitter picked up the claim -- including Republican Congresswoman Lauren Boebert, whose tweet gathered tens of thousands of likes. The rumor also circulated on Instagram and Facebook.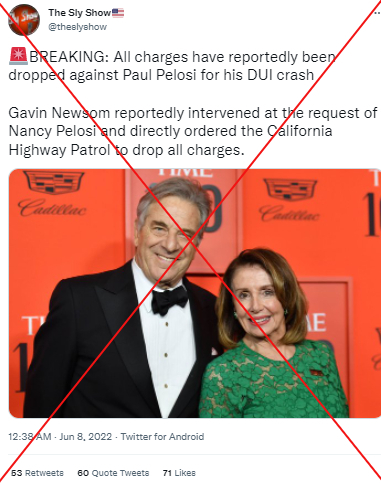 Screenshot of a tweet taken June 10, 2022
The posts refer to Paul Pelosi's May 28, 2022 arrest in Napa County, California, where the 82-year-old was booked on suspicion of DUI, per police records. The Pelosis own a vineyard in Napa Valley.
Fran Clader, director of communications at the California Highway Patrol (CHP), told AFP that authorities "arrested Paul Pelosi on suspicion of driving under the influence of alcohol on May 28 after responding to a report of a crash involving him in Napa." Afterward, she said, "the CHP booked Mr. Pelosi into the Napa County Jail."
The claim that authorities have dropped DUI charges against Pelosi is false.
"The CHP submitted the investigation to the Napa County District Attorney," Clader told AFP. "The Napa County District Attorney's Office will determine which charges will be filed."
Napa County District Attorney Allison Haley said in a press release sent to AFP that Pelosi "agreed to a court date of August 3, 2022, at 8:30 am in Napa County Superior Court."
"If criminal charges are filed, Mr. Pelosi would be arraigned at that time. The case is currently under review to decide what, if any, charges will be filed against Mr. Pelosi," Haley said in the release. "No decision has been made at this time. Any speculation to the contrary is incorrect."
Both Erin Mellon, a spokeswoman for Newsom, and Drew Hammill, Nancy Pelosi's deputy chief of staff, also refuted the rumors circulating online.
"There's no truth to this," Mellon said.
"The governor does not have that authority," Hammill told AFP.
Eloy Trujillo, an attorney in the San Francisco Bay Area who handles DUI cases, told AFP that "many factors" can affect a district attorney's filing decision in DUI cases, including evidence such as blood tests, other arrest reports and records of injuries to third parties.
"Vehicle accident cases may present issues related to potential injury to third parties, involving possible felony charges, enhancements and so on," Trujillo said.
He added that, in California, a misdemeanor DUI charge has a one-year statute of limitations. However, Trujillo said he has "had cases remain in a pending status for months, sometimes for unknown reasons."
Nancy Pelosi is a recurring target of disinformation online. AFP Fact Check has debunked many of the hoaxes here.