WHO did not approve Thai food supplement to 'prevent long Covid'
Facebook posts circulating in Thailand claim the World Health Organization approved a dietary supplement to prevent long Covid. However, the WHO said it made no such announcement as of May 30, 2022, while health experts warned the only way to prevent long Covid was to avoid catching the virus in the first place.
"The World Health Organization has approved protein, resveratrol and probiotics to prevent long Covid-19 symptoms #RenatarHasEverything," reads a Thai-language Facebook post from May 19.
Renatar is a Thai dietary supplement brand.
The brand's website says its products contain protein, while resveratrol and probiotics are listed as ingredients in its Fiber X digestive detox drink.
A spokesperson for Renatar told AFP that the company did not claim its products helped prevent long Covid, while there was no trace of such a claim on its website.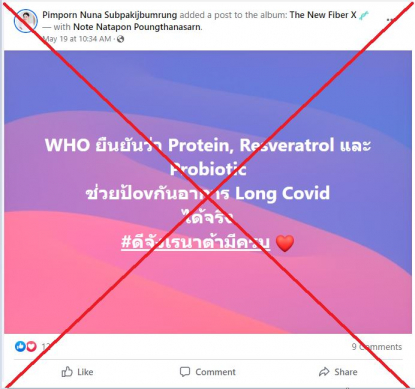 Screenshot of the false Facebook post captured on May 31, 2022
Long Covid -- also known as post-Covid conditions -- refers to a wide range of chronic health problems, including fatigue, fever, and a cough, that some people experience after coronavirus infection.
Scientists are still working to understand more about the condition.
The claim also circulated on Facebook here, here, and here.
Misleading advice on preventing and treating Covid-19 has flooded social media, prompting health experts to warn against purported cures that are useless or even harmful.
In Thailand, baseless tips to ward off the virus, from consuming onions and antibiotics to using throat spray, have flourished online as the pandemic battered the Southeast Asian nation's tourism-reliant economy.
'No long Covid prevention'
The WHO said it had not approved Renatar products to ward off long Covid.
"The WHO has not recommended any treatments to prevent post-Covid-19 conditions other than preventing Covid-19 itself," a representative for the global agency told AFP on May 30, 2022.
Keyword searches on the WHO's official channels did not find any reports that it had approved Renatar or any of the ingredients mentioned to prevent long Covid.
Dr Thira Woratanarat, an associate professor of preventive medicine at Thailand's Chulalongkorn University said the posts shared false advice.
"There is no evidence that the substances mentioned in the claim have any properties in preventing post-Covid-19 conditions. The best way is to prevent [long Covid is to avoid] catching Covid-19," he told AFP on May 31.
Dr Thiravat Hemachudha, an infectious diseases expert from the same university, told AFP on May 27: "There are currently no drugs or medications that prevent post-Covid-19 conditions."