Scammers revive clickbait hoax using 2019 image of bus crash in Ethiopia
An image of a crashed public transport bus has been shared on Facebook in Ethiopia with a claim that the accident happened recently in the country's capital Addis Ababa, with 68 passengers on board. This is false: AFP Fact Check traced the photo to reports of a 2019 collision in which six people died. The false claim is part of a clickbait ploy used in online scams in Ethiopia to attract more followers.
The post, archived here, was published on May 15, 2022, and has generated hundreds of reactions. 
Written in Amharic, part of the caption translates to: "At around 3:45 a.m. yesterday, a Lion bus en route from Torhayloch to Sebeta collided with an electric transformer with 68 passengers on board. The photos of the victims are # released on Telegram and can be found by clicking on the link (sic)".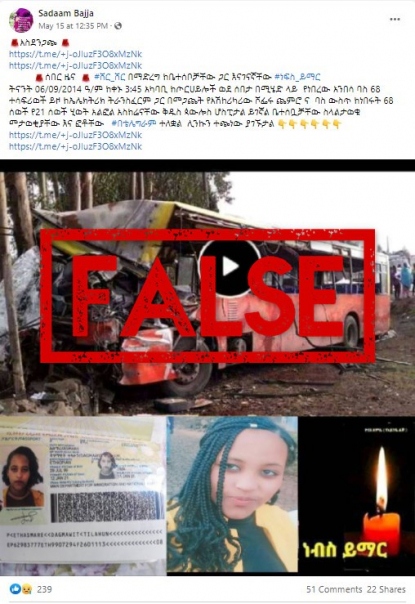 Screenshot of the false Facebook post, taken on May 19, 2022
The post features four photos: one of a bus wreck; another showing the passport of a woman; the third a portrait-style picture of another woman; and finally the image of a candle with the words "God bless their souls". 
Similar to a hoax already debunked by AFP Fact Check in January 2022, readers are invited to click on two Telegram links to learn more about the identities of the purported victims. 
But in reality, the links lead to a Telegram channel that publishes sensational stories designed to lure new readers.
The same post was also shared on Facebook here. 
Old image 
While the photo of the bus crash was indeed taken in Ethiopia, the incident occurred in 2019 on the outskirts of the capital, with six fatalities reported.
A report by EthioNews at the time shows the same photo of the crash.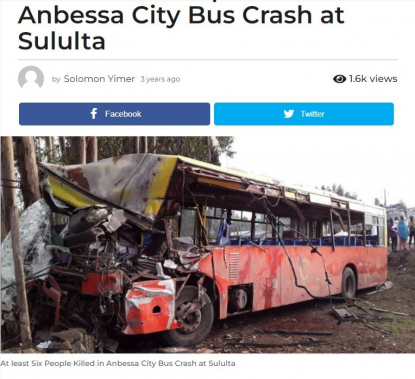 Screenshot of the same image found on EthioNews
The article explains the accident happened in Sululta, 30 kilometres north of Addis Ababa, when the bus collided with a truck. 
Recurring hoaxes
Similar hoaxes regularly circulate on Facebook, as scammers attempt to attract more followers to Facebook pages or other social media networks like Telegram.
AFP Fact Check has debunked various online scams in Africa here.