Old photos from Lagos reused in false claims about cattle killers being arrested in Abia state
Images of Nigerian police detaining two men have been circulating on social media claiming to show the Rapid Response Squad (RRS) arresting youths for the "alleged killing" of cattle belonging to Fulani herders in Aba, the commercial centre of Nigeria's southeastern Abia state. However, the claim is false: the photos, which were taken in the country's megacity Lagos, have been circulating online for years. 
"The Nigerian RRS is currently arresting our youths at Port Harcourt Road Aba, in Abia State," reads the post's caption. "The reason for the arrest is the alleged killing of Fulani cow last night in the area. Reports states that over 20 youths have been arrested and moved down to an unknown destination (sic)."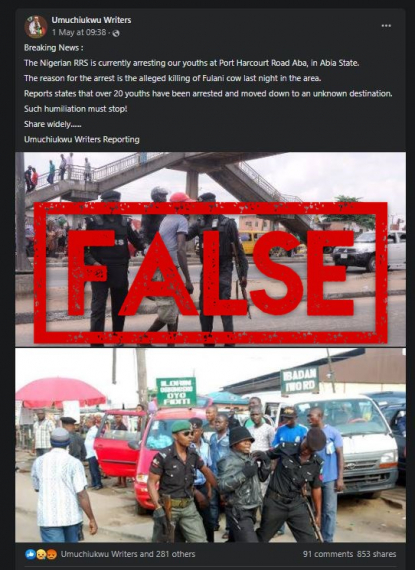 Screenshot taken on May 11, 2022, showing the false Facebook post
One of the two photos circulating in the viral posts shows armed police officers holding a man next to a pedestrian bridge. The second image shows a different man being taken into custody near a bus park.
The Fulani ethnic group in northern Nigeria is known for herding cattle and moving south in search of dwindling grazing land. And with Fulani-born President Muhammadu Buhari in power, the nomadic pastoralists have come under attacks from the Biafra separatist group that has been pushing for an independent state in southeastern Nigeria since 1970.
However, neither image shows police arresting suspects for killing cattle in Abia state.
Old photos
AFP Fact Check found that the first image has been repeatedly used to spread disinformation on different issues in Nigeria. 
It circulated online last year with claims that Nigerian police were arresting a face-mask seller for failing to wear a mask in accordance with Covid-19 regulations. 
However, AFP Fact Check traced the photo to a news report from April 2016 — three years before the coronavirus was discovered. The picture was part of a photo essay by Legit, a news site in Nigeria, about the enforced use of pedestrian bridges over Ikorodu Road in Lagos, Nigeria's commercial capital.
Screenshot of the online article from April 2016 with the featured image
Using Google Maps Street View, we also confirmed that the photo was taken in Lagos and not in Abia state.
We traced the second image to a report published in February 2016 on Nigerian news aggregation website DailyPost. It showed the arrest of an alleged gang member.
May 12, 2022 Corrects description of the Rapid Response Squad