London bus ad with Pakistan founder is from publicity campaign before Imran Khan became PM
Social media posts shared thousands of times criticise Pakistan's Prime Minister Shehbaz Sharif for having a picture of himself printed on the side of a London bus. They contrast this with an illustration of Pakistan's founder that purportedly featured on a bus during the tenure of his predecessor Imran Khan. However, while Sharif's image genuinely appeared on London buses after he came to power in April 2022, the picture of Pakistan's founder was taken during a publicity campaign in 2017, before Khan took office.
"In Imran Khan's time, London buses had a picture of Quaid-e-Azam [founder of Pakistan] and during Shehbaz Sharif's time, it's a picture of the two brothers. See the difference for yourselves," reads an Urdu-language tweet from May 6.
The tweet, shared more than 6,000 times, shows a photo of a bus featuring the image of Mohammad Ali Jinnah, also known as Quaid-e-Azam, and another photo of a bus showing Shehbaz and Nawaz Sharif.
Imran Khan was booted from power as Pakistan's prime minister in a no-confidence vote in April 2022, and replaced by Shehbaz Sharif.
Khan came to power in 2018 after spearheading a campaign that led to the ousting of Nawaz Sharif, Shehbaz's brother and three-time prime minister.
The post appears to criticise the Sharif brothers, who critics often mock as vain, for having their image on buses.
Screenshot of the false post taken on May 9, 2022.
The same image comparison was shared widely online, including here, here, here and here on Twitter and here, here, here and here on Facebook. It was also shared by online platform Haqeeqat TV, which has more than 400,000 followers on Twitter.
The posts surfaced after an anonymous British-Pakistani businessman coughed up an undisclosed amount to have 150 iconic red London buses emblazoned with the Sharif brothers' image along with the slogan "Emerging Pakistan" in a bid to attract foreign investment, Pakistan's The News International reported on May 5. 
The photo of the bus in The News International's article is the same as the one in the tweet.
'Emerging Pakistan'
However, the picture of the first bus featuring Quaid-e-Azam's image is not from Khan's time in office.
A reverse image search found the image in a report by Pakistani outlet Dawn News on June 30, 2017, shortly before Nawaz Sharif was ousted, and more than one year before Khan came to power in August 2018.
"The Pakistan High Commission (London) has started a four-week publicity campaign under the theme 'Emerging Pakistan' to promote our country's culture in the United Kingdom," Dawn News reported.
Below is a screenshot comparing the image in misleading posts (left) with the one from Dawn News (right):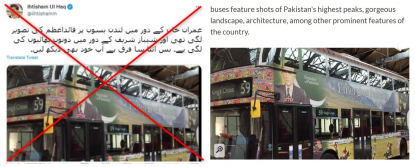 Screenshot comparison of the image in the misleading post (left) and the photo from Dawn News (right)
The image was also published in a report on June 28, 2017 by Pakistani media outlet Geo News.
The Pakistan High Commission in London also tweeted an image of the same bus on July 11, 2017.
The tweet linked to a press release that said the campaign was part of celebrations for Pakistan's 70th anniversary of independence.
AFP has debunked a wave of misinformation following Imran Khan's removal from office.